Merry_Pie is the girl that has stolen my heart. This 20 years old  Latvian cute girl is the epitome of sweetness. Her body is amazing and her cute smile and sexy voice will make you fall in love with her. I caught her on her cam at seventeenlive.com and was really impressed with her charm.She is playful, she is funny, she is sexy and she has a perfect body. She is 1.78 cms tall, which is around 5'9". She is a model-type girl who graces our screens with her natural body.
Merry is in Latvia, but check here if you wanna meet local fuck buddies in your are
As I have said in my previous post, I got to meet her thanks to Viola Bailey. I started following this beauty and interacting with her.  We have tweeted each other and messaged her. I felt really honoured when this sweet girl dedicated me some of he tweets and really made me feel that I wanna go to Latvia.
Merry, started modelling as Patritcy for well-known solo sites. She even pulled a Viola Bailey and did hardcore with her ex-boyfriend.  The scene was not a hardcore flick where Merry gets pounded like there is no tomorrow. Her performance for Wow (that is the name of the site) became an instant classic. She had sex with the guy in a way that she looked she was giving not only her body, but also her soul. A young girl was turning into a woman in front of our eyes.
Nowaways,  Merry Pie's popularity is increasing and I foresee a great future for this young lady.  She just reached 1k followers and has become an instant fan favourite for connoisseurs. Merry Pie is without a doubt for teen girl lovers what Viola Bailey is to big boobs lovers.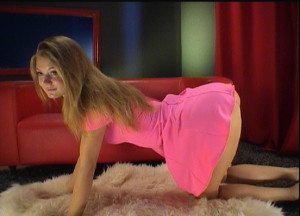 I gladly will post more updates about Merry. I hope she says for a long time in the industry and that fans and producers treat her well and with much respect.
Merry Pie, if you are reading this, I hope you can feel the love!!!