My buddy Naughty Boy aka Nottyboy has managed to fuck many girls in the last few years. He is one of the top independent porn producers in the USA. He not only gets beautiful girls for our pleasure – and obviously his, too- but also offers a quality product and keep his customers happy.
For the ones who are new to my NYC buddy, it is worth noting that he shoots POV style. According to him, he considers that in order to maintain the fantasy that porn offers the fans, films should be shot POV. He does not want to see the guy; men want to see a beautiful lady unleashing a sexual machine while being fucked by a hard cock.
Naughty Boy has a great taste in women. Among his ladies, most of whom have been baptized by his load, we can name Danielle Delaunay, Scarlet LaVey, Marilyn Mayson, Marina Visconti, Charlee Chase , Riley Rey and actually many more. All those videos can be see on his website Nottyboy.xxx and his C4S store http://clips4sale.com/naughty-boy-xxx.
Who would not love to be Naughty Boy.  Imagine having your hands on these beauties. If you can, great! If you can't maybe you can check Adult Sex Sites and find a hot girl to fuck.
He gave an amazing facial to Danielle Delaunay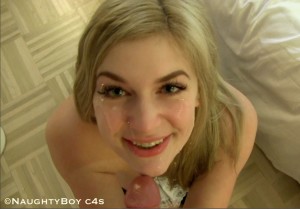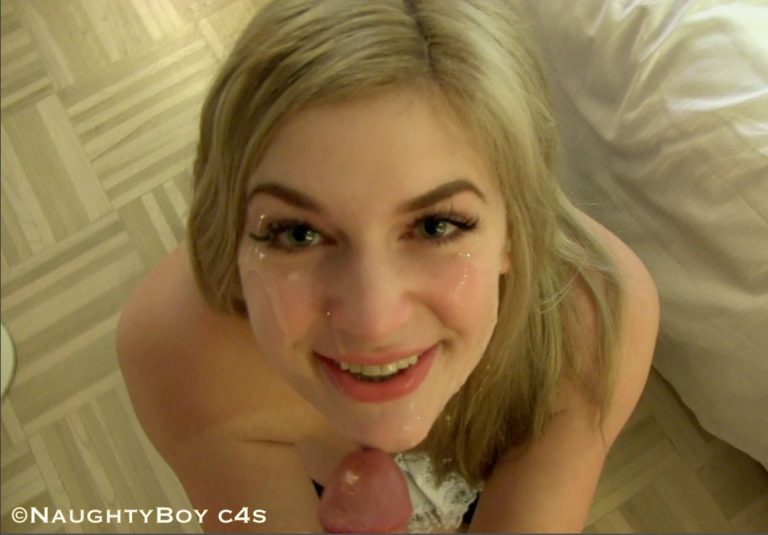 So what are you waiting. Girls keep coming in.  The videos are great quality and the content is great! What else can you ask for? He gets pretty face girls whose bodies are perfect. He fucks them. He slides his cock between her tits. They give him sweet handjobs, blowjobs, offer their pussies and get wet all the time.  To top all that, he shoots huge loads on their faces.  What are you waiting for?  Visit Nottyboy.xxx and his C4S store http://clips4sale.com/naughty-boy-xxx , you will end up with a smile and you will always want to see more.