Everybody remembers Tanya Song. Her beauty and her impressive breasts are part of our lives. No kidding. Tanya Song is a legend. Tanya came from a small town in Russia and got into nude modeling. Her unreal natural breasts became an obsession for thousands around the globe, including myself. After posing for Scoreland, DDFbusty , milena-velba.de and even her own site Tanya-song.de. At that time I interviewed her. She was one of my first interviews as you may notice.  Some time later, and after doing some camming, Tanya retired. Fans wondered what happened to the stunning brunnette that became the busty princess of everybody's own realm. Last month I posted about her comeback to regular modeling.  Well, I interviewed Tanya last month. For some reasons beyonf my control I could not post it, but finally I got the time to get back and give you this exclusive interview with Tanya. I really appreciate her taking the time and always been so gentle about it. It was really fun to chat with her and I hope to touch base again. You can keep an eye on her on her official facebook page.
Tanya Song made this cute fansign for me and as a proof of the interview. I appreciate it as she told me that she is not into selfies. Thank you Tanya!
BoobsRealm.com: Hello Tanya. Long time no see. What have you been up to in all these years? Fans have missed you. I get e-mails where they ask about you?
Tanya Song: Hello everyone, really nice to be "back" on the internet as a photo model. Since I stopped photos in 2008, I was concentrating myself on my professional career and my family life. Photos are fun to make but I had to think about my future.
BR:  We have seen you launched your facebook fanpage. What made you decide to come out again and be in touch with your fans?
TS: Now I have a nice job in Paris and I almost finished my studies (I study since 2004 in different domains !!! ). Once I was walking in the street, as usually running between my school lessons and my job, I was thinking that something was missing in my life. The creativity was missing… Besides I understood that I really like to show myself on the photos, it gives me confidence in myself. It is also very creative part, when I can become another person during photoshooting, forgot about my "normal" job and just have fun ! :). I thought also that it could be interesting to share my new photos with those who was wondering why I stopped modeling business and what I do now.
BR:  You have said that topless is no longer an option. So, for the record, should we consider Tanya Song retired?
TS: If you consider Tanya Song as busty nude model, yes 🙂 Otherwise, Tanya Song just changed the direction and from now on makes beautiful artistic photos without nudity. Also, before it was mostly for money, now I make photos for my pleasure and that's a great difference. I put all my soul in photos, prepare shooting, think about clothes, poses, makeup, choose my photographer.
Tanya posing for http://www.cafray.book.fr/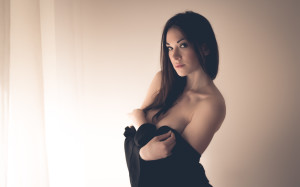 BR: You have lost some weight, but still look spectacular. What was your bra size when you were doing adult modeling and what is your size now?TS: Yes, actually I always wanted to lose some weight 🙂 Not my boobs though ! haha. I noticed my body changes a lot from time to time. When I was modeling it could be from 30F to 32HH (last shootings with Daktari). Depending on a period and on hormons I think. Woman's body is a mystery :). Now I am 30F – 30G, which is still quite big 😀 All in all I lost almost 8kg !
BR: What are you up to these days? We have seen you posing for very nice photographers. Are you doing it full-time? What else are you doing?
TS: As I said, I do photos mainly for my pleasure now. I have a full-time job. But if I can earn en extra-money with photos, I am happy.
BR:  When you debuted for your first site. What were you expecting from adult modeling? What surprised you when you were on set?
TS: When I debuted my own site I was expecting to earn more money with it. But it didn't work… One should know how the business on the internet is working, at that time I had no idea. Maybe that was one of the reasons why I stopped modeling. On the other hand, adult business can be dangerous, with lot of people who tries to take all they can from models. That's why I refused tones of propositions from different sites…
BR: Speaking of the early stages when you get a guy gropping you. Was there ever a talk about doing boy/girl?
TS: I don't really understand about what guy you are talking 🙂 The times I was touched on my videos, those were all my ex boy-friends. I would never let touch myself by some guys that I don't know and especially by photographers ! Work is work…although I had a very romantic story with
one photographer who I appreciate a lot and with who I stay in touch after I stopped nude modeling. Lot of people asked me about boy / girl videos, lot of propositions from different sites… If I would do it I would not have a chance to come back to "normal" modeling, I would become porn model and it is not for me.
BR: What was your experience with your own site?
TS: I was thiking about photoshootings duo with girls, but still it will be with clothers or at least in lingery ;). Btw, if there is a nice photographer or a model who wants to make photos with me, I will be glad. I also propose posing for amateur photographers.
One of the most legendary photos. I will remember this one until I turn 100
BR: I am starting my photography studio right now!
TS: haha.
BR:  If you could have changed something you did in your career or how would you have wanted it to go, what would it be?
TS: As I look back, I think I would not stop modeling so early…I would enjoy the community aspect the social media bring us in 2007. Gosh, there are so many fake profiles of Tanya / Anna Song on the internet (facebook, twitter, myspace, instagram) !
BR: Is there any particular photoshoot or video you enjoyed the most? And one that you really disliked?
TS: I like all shootings I did. Especially with Score in a french castle (I love castles :p ) and with Daktari because we were thinking together about
decorations, clothes et personages. I love shootings with girls as well because I like communication and beauty !
BR: In this new phase of your modeling career, what kind of work are you looking for? Are glamour nude also a no-no?
TS: I think I can go till hidden nude "nue caché" as they say in French 🙂 but with a very nice photographer !*
BR:  You know I always get the information lol.. You have been doing short films and actually performed in one. Is acting something you would
consider?
BR: Yes, it was a short movie we did in a school where I study. It is my dream to act in a movie ! But I have to take lessons in order to perform in a nice movie. I especially like romantic-horror movies (Dracula), or some warrior-fantasy movies (I practice French Boxing since 3 years 😉 )
BR:  Do you visit adult sites or know who are the current top busty girls? Is there any new girl you think " Oh I would have loved to shoot with
her"?
TS: I visit only Daktari's sites. I like especially Valory Irene, would shoot with her ! 🙂 I would shoot with Angela White again, she is amazing !
Otherwise I don't really know who is the number one busty girl this time ! I am especially into models from past years, like Aria Giovanni, Chloe
Vevrier, Nadine Jansen and Milena Velba. Those are legends !
Tanya and Milena
BR:  You are from a small town in Russia. Then you traveled around Europe shooting and now you are settled and living a normal life having a normal job. If you would have to give me a log line for a film or book about your life, what would it be?
TS: Tanya's Song adventures ! 🙂 Some sensual movie but with lot of  adventures, a bit like Romancing the Stone, haha.
BR:  You did some camming for imlive. How was your experience with that? Any anecdote?
TS: Actually I did more webcamming than modeling 🙂 It is good money and I liked to talk to my fans. I met some nice people who become my friends.
BR:  What are your short-term and long-term plans?
TS: I have lot of plans concerning my professional life. I didn't think about modeling yet though. Maybe if I have an interesting proposition one day, for the moment just my pleasure 🙂 But I will make a website for my photos for sure ! All the content will be free.
And this is something to worship!!
BR: Is there a message you would like to tell your fans to close this interview?
TS: I am really happy to share my photos with you. Hope you will appreciate it and follow my work.
BONUS question: You like playing guitar. When did you start doing it? Did you have a band or tried to do it in public places? Which one is your
favorite song to play?
TS: I started to play guitar at the age of 13 ! I played for 10 years, in bands, alone, in jazz clubs in Paris. I played rock, blue et jazz. Even met Billy Cobham and Mike Stern few times ! Though we didn't play together. I was guitar teacher as well and composed my own music…but then just stopped. I think I will continue with music but it should come suddenly in my mind as it was with photos.
Please enjoy this amazing photos from http://www.cafray.book.fr/