Finally it happened! Thanks to the powers that be and due to the Corona Virus situation -and the lack of revenue for many people- Lucie Wilde accepted to do an online interview with BoobsRealm.
Of course Lucie Wilde had to do it. After all BoobsRealm is the only website that got a hold of her back in 2014 – Read the original Lucie Wilde interview–
Lucie did not have much time, but at least gave us the chance to clear up many topics. As always, she was very "enthusiast" and just replied with short sentences.
BR: Thanks for the opportunity. The whole world was waiting for this for a long time!
LW: I don't understand. There are many girls with big tits out there. I am just a simple girl.
BR: A simple girl with spectacular out of this world tits.
LW: Liar!
BR: So what have you been up to since you retired in 2015?
LW: I just watched TV and laid on my couch. I'm lazy
BR: And the kid…
LW: Yes. I have a babygirl.
BR: So how did that come up?
LW: I fucked, he came inside me, 9 months later there she was.
BR: LOL that was obvious. I mean. Was he your boyfriend? Are you married now?
LW: Not married. Too many question.
Lucie housewife life
Sponsor: Watch busty camgirls at: Live Nude
BR: What about Argos
LW: He is getting DP in jail. I don't care. He took my money.
BR:  Rumors about your breast reduction surfaced last year. Is that accurate?
LW: You tell me. You post it =)
BR: Several sources confirmed it.
LW: Also aliens control the world according to the internet. No. I lost weight. Baby sucked a lot of tits and bit them. They look uglier now and smaller.
BR: Uglier? They were not ugly
LW: They were. Who likes big tits? I was bullyied when I was in school for having big tits.
It seems Lucie almost cried here
BR: That is why you did not wanted to do porn?
LW: I never thought I was going to look good naked for others. I was told ugly tings. That I could never see my feet. IF i stick my tongue out I will fall face down and more. I hated them
BR: And they made you money
LW: Yes. People are crazy.
BR: So you never liked doing porn?
LW: No. I don't like it. never watched it before. Never watched me. I dont like to fuck. I dont care.
BR: So not even one shoot?
LW: Hmm. Maybe a few times when people where not serious. But it took too long. Too many things. No. not fun.
BR: So you would never go back?
LW: Never. I got offered 5k for a shoot for the German site. I said no bye.
BR: So what message would you like to give to the fans now?
LW: Bye
BR: Just that?
LW: Yes. I have to go. Thanks.
and thanks for the photo!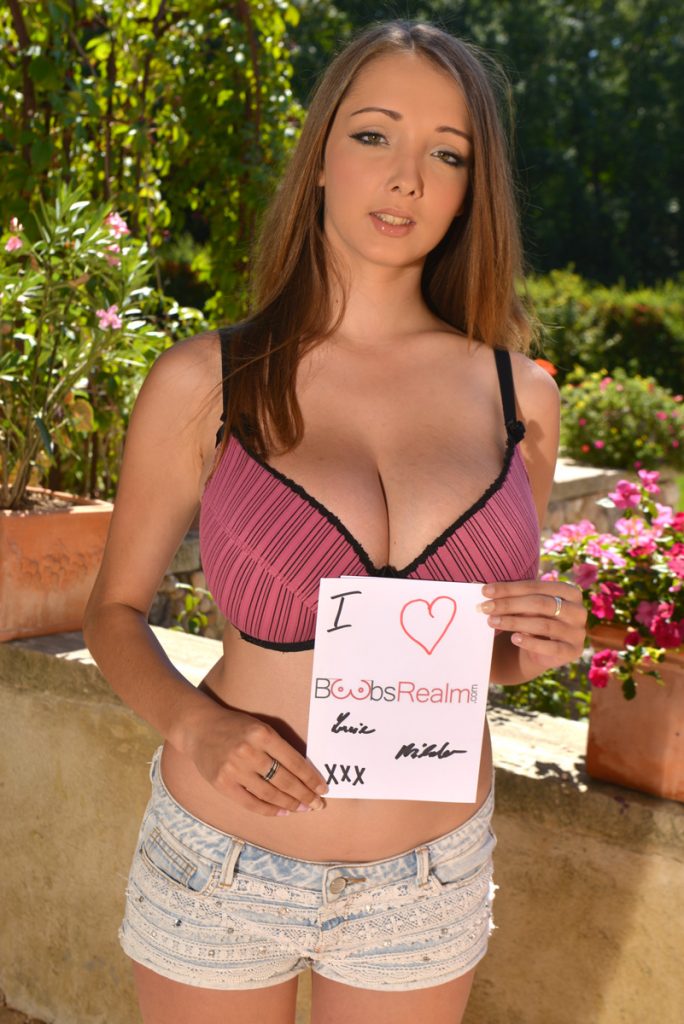 And if you made it to this part….please click on the link below for the video of Lucie Wilde saying hi to us.
Happy April's Fools Day!