I referred to this on my last post, but also promised to write about it back in January after the AVNs – finally all the interviews will be posted one way or another this month-. Porn and wrestling are long lost siblings. It is true, more than you think. No it is not about the semi-naked guys or because wrestlers have been associated to pornstars in the past (see Cena, John; Ziggler, Dolph) or some wrestlers made it to porn (Chyna, Shelly Martinez and Hulk Hogan) It is because of all the circa, kayfabe and even more surprising… the fans.
In both professions performers put their bodies on the line in order to entertain the fans. Hell can you mimic Aj Styles or Seth Rollins? Can your wife fuck like Gianna Michaels? Are you as big as Lex Steel?
Let me introduce you to some keywords you need to understand from the professional wrestling world. You, the porn fan, will then associate them with the adult entertainment business and maybe -despite you would not like admit- relate to yourself.
Note: Before going to the details please check out the Miss Boobs Realm 2015 contest.
– Kayfabe: /ˈkeɪfeɪb/ is the portrayal of staged events within the industry as "real" or "true", … between participants as being genuine and not of a staged or pre-determined nature.
– Finisher: The movement performed by a wrestler, which would, more often than not, culminate the match.
– Gimmick: A character portrayed by a wrestler. Can be referred to matches with certain characteristics called "gimmick matches" (e.g. Hell in a Cell,
– IWC: Acronym of Internet Wrestling Community. Considered to be the online world where "Marks" and "smarks" exchange ideas and root for "internet darlings".
– Mark: A fan that believes that kayfabe is real.
– No-sell: Show no reaction to the opponent's moves.
– Over-sell: Show a big reaction the opponent's moves which is not believable.
– Payoff: The culmination of an angle or storyline with the intention of providing gratification for the fans. A face (hero) beating the heel (villain) is the common payoff.
– Promo: In-character monologues or answers to questions.
– Push: What a wrestler gets from management in order to position him/her on the eyes of the fans.
BTW Is this Nikki Bella nude?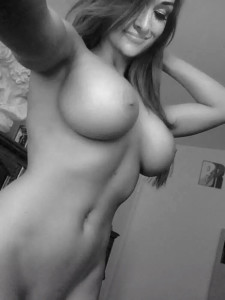 – Smark: Fan that has some inside knowledge and post it on social media. Some smarks have no idea but fill in the blanks with their theories making them true to them and spreading it as they were facts.
– WWE: Top company in the wrestling world. The big corporation trying to make the market their monopoly. Offers a stale product. The majority of indie wrestlers or promoters want to be associated with it because of the money and exposure.
– NXT: WWE's brand appealing to the IWC. It is a mean to kill the competitors (ROH, PWG, TNA, GFW and smaller companies) grabbing their stars to make NXT the brand the IWC likes, thus impacting the competitors revenues and eventually get them out of the market (second coming of WWF killing the territories).
So know that you know the basics about professional wrestling, some of you may have gotten the message already. In case you haven't I will now explain you the porn business in the same wrestling terms.
– Kayfabe: The typical porn scene features a horny woman who suddenly has an urge for a pizza, a plumber  or gets some cash from a complete stranger on the street. Plot always follows the same pattern: Girl thinks it is gross, but still takes the dick as a champ and even a cumblast from a virtual unknown. Other scenes have girls going to casting for tv or for solo modeling and end up getting fucked with hopes of getting the gig. Other porn flicks show girls who are just turned on by saying a guys dick.
I have a newsflash for you guys!!! It is fake! Yes. It is staged.
– Finisher: All porn scenes have a money shot. In porn you will know that some girls like the cum on their tits, or their pretty faces or swallow. However, others have signatures moves, such as Phoenix Marie and the way she takes a cock in her ass. I remember Canadian Avi Scott having a trademark no-hands cock-sucking technique.
– Gimmick: Pornstars have to keep up kayfabe on conventions. They keep their gimmicks, pretending that they are ok with you glacing at their tits and asses as you were starving hyenas. Newsflash!! they don't like to be groped by random strangers, but some let them because it is part of kayfabe. It makes the business go around.
– IWC: Basically social media. This porn matrix where fans share photos, videos, exchange messages with their favorite girls. Basically, like in pro-wrestling, everybody has an opinion on how a business should be run and who are the girls that should be the queens of porn and the ones who suck -no pun intended-. The porn IWC, or IPC as I would call it, is where casual -and irresponsible- fans share free content.
– Mark: Believe it or not I have met many many guys on the internet and in real life who think that pornstars are just girls whose only goal in life is provide sex to any male who asks for it.. for real. I had a hard time explaining them that Porn Kayfabe is fake. So please, even if you guys were handomse, pornstars won't get aroused by your cocks or your calling them names. Stop sending photos of your dicks to pornstars. They are not going to fuck you! No. And to be brutally honest with you… they choose who to fuck. They have the right to do so.
You call a girl on the street is a slut and you will end up getting s huge hard-hitting slap on your face.
– No-sell: Girls who show no reaction to their partners pounding. Despite her fame Lucie Wilde might have been the most famous recent case. Despite her hot body, she basically had performances that resembled those of Kirsten Stewart, who showed not emotion at all. However, In Lucie Wilde's case – also as Busty Buffy- her impressive tits have been such a success that she became the most profitable pornstar in legal porno history.
Legal Porno's tube site XNXX was accused by MindGeek of DMCA Violation. Below: Lucie Wilde
– Over-sell: We see mostly in american porn tons of girls that just scream and moan too loud. It is just not believable and it can take away the feel of a good scene.
– Payoff: Recently Blacked.com and Hardx.com are great examples of what a payoff is. These sites have featured girls who have not done ever on camera interracial or anal. Rushing things can damage a pornstar career in the long haul, so a girl and a producer needs to wait for the right time, so when a special scene happens, fans can actually feel it is that special and make that Best for business.
– Promo: Related to marks and kayfabe. Pornstars have to maintain character and keep on portraying the slutty personas they created. All interviews and fans interactions are meant to engage fans into the porn.
– Push: Mia Kahlifa and Kendra Sunderland are clear examples of this. Not taking anything aside from them and their beauties, but they might be the most popular pornstars right now. Controversy creates cash. Mia is the first Lebanese pornstar and Kendra claimed to fame after been caught for masturbating on a university library while doing a camshow. Their popularity boosted and now they are among the most pushed pornstars, regardless of the talent others in the business may have.
Mia Kahlifa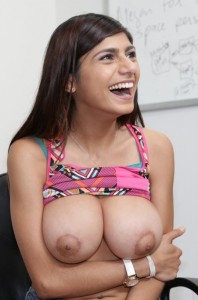 – Smark: Fan that has some inside knowledge. There are a few. I may even say that BoobsRealm.com can be considered into this category. I have inside knowledge and am in touch with some girls and producers. Obviously, I do not dislose some info as I don't wanna lose reliability and also it is not of my business. However, some fans try to act like marks (smart marks) and fill in the blanks with what they want. What happens as a result? I get e-mails asking if Lucie Wilde escorts? I get asked real names or I get facebook profiles. I have to remind all guys that showing private info of the girls online is risk their safety and may push them towards retirement.
– WWE: Who is the big guy in the porn industry? MindGeek is the WWE of porn. Basically, they profit direct or indirectly from all the sites. How? It is easy: They own most all american relevant porn sites, being Brazzers their top brand. MindGeek purchased faketaxi, fakeagent and all the other fakes as well as the online Playboy business and webcams.com. They basically purchase whoever they see as a potential successful competitor. They killed the "porn territories" and put them under a huge conglomerate to became this huge Corporate monster… but what is next? or better said… what is nxt?
– NXT: Not happy with buying out the competition. MindGeek needed to be cool to the IPC, the fans. Those casual porn viewers and marks that just were bored by porn and are not willing to Pay4yourporn. It is also responsible for your free porn. It owns Pornhub, Redtube, Xhamster, Youporn and some others. So basically, they let the IPC think that tube sites are the coolest shit ever, so they would never have to pay for porn. What do they do on those sides? They allow users to upload any porn clip and they sell advertisement to affiliates and porn companies who want to drive traffic to their own websites. In a nutshell, they allow users upload content of company B, which will mine company's B profit, who in order to get traffic, would need to pay MindGeek to get advertisement to their sites. Stoya and Siri have been very vocal about this situation. However, not all the performers can. One way or another a perfomer will end up needing the WWE of porn in order to make it or their content ends up on free tube sites. As one fan mentioned Siri is the CM Punk of porn. Siri is an outspoken and respected pornstar who always makes very good points when addressing the industry. Siri is one of the best overall performers, yet she is not nominated for the AVNs.
Scoreland, DDFbusty, Pinupfiles, Cosmid MFC are among the sites not controlled by Mindgeek
Now you have an idea of why I say porn and wrestling are alike. You also may have gotten some additional information of what is behind the porn you watch. Feel free to comment below.
 Met-art recently settled with MindGeek for DMCA violations