Top busty Canadian pornstar Jemma Valentine will be in Toronto performing live interracial sex at the Porn Club Toronto. Mark your calendars! The evening of October 24th you can meet Jemma Valentine for real and witness a real porn scene. As somebody who has met Jemma, I can say that she is what you expect and more. Photos or videos do not make her justice. She is my favorite Canadian girl (not only pornstar). Do not miss the chance if you are in Toronto or want to make a trip to the city and enjoy not only Jemma's show but also other cool spots in the city.
Jemma Valentine wants to see you there! You don,t believe me? Just check this out from Jemma herself.
Jemma is actively cresting amazing content on her official site, from solo scenes, girl/girl to casting new guys and been that cute naughty girl we love. Jemma is also selling personalized photos on imodel4you.com as well as selling some private galleries. Do not miss the chance to get Jemma taking a video or a picture for you.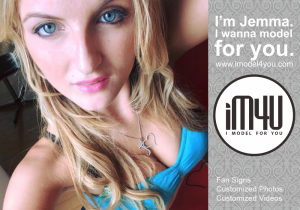 In the past few days – and for the last couple of years- I get requests and some hate messages asking for free videos or about why I complain when I find some free stuff online. I have been gotten some free vids online.
I have posted every once in a while an old video that has over 7 years or so on the net; however, I do not condone stealing content or paying content and then sharing it for free. There are some people that use anonymity on the internet and play modern-day Robin Hood. I am gonna explain to you why you are anything, except Robin Hood and how a "mark" you are for trying to get likes or tweets for giving away what does not belong to you.
It is a common mistake to think that porn companies make millions of dollars and pornstars live like celebrities getting paid tons of money for every cock they take. If you thought that was the reality, you are dead wrong. Most performers can't make a comfortable living with porn. The rates are lower than before, due to the fact that companies have to cut costs because of lower sales. Everything is free on the internet.
You know why Merilyn Sakova retired?
Yes, because of free porn online that made her business no sustainable anymore
You thought that porn companies have a huge margin? Nope! You complain about your 30 bucks membership, but fail to realize why the price can't be lower. A paysite or a cam studio that runs affiliate programs offer between 20% to 50% as commission for every sale. There are also Pay Per Lead or Pay Per Sign up – which apply more to cam sites- that award money to the Affiliate who brought the potential customer, but has yet to make a payment – this applies most to cam sites-. After deducting the 20% you have to pay your payment processor. Yes, every company that sells online needs a payment processor. Adult sites are considered high risk, so they face higher rates. Let's go with the common 14.5%.  Then you have to pay your people behind the scenes, servers, accountants, lawyers, marketing and every other professional a regular company needs. Then you have to pay taxes. This apply to the bigger companies who can afford these resources. However, small studios and independent cam girls and pornstars, which often have less traffic, thus less revenue. Adult entertainers are blue collar workers, just like you and me. Regardless of what your -wrong- perception is of an adult star -read my upcoming post Porn and wrestling are long lost siblings- they have to provide to their families, pay their tuition and put food on their tables. Every time you view, download or post videos or photosets that people will have for free to you are messing with other people's pockets. You as a blue collar worker, or even an owner of a company should relate to the following: What if I tell you that somebody is giving away the product you invest money in to produce and sell? You are intelligent enough to understand that your customers will not pay you to keep on producing because they are getting YOUR product for free. Your income is getting affected, your company's revenue is going down. People will have to lose their jobs because of that, maybe you will have to leave the company. What would you say to the guys sharing your products for free?
Siri has taken a hiatus.
It is hard for a site to survive due to most tube sites and free porn online. Support Siri's site
Every time you watch a downloaded cam show, a free movie on a tube site or a torrent you are not only killing the industry, but also you are impacting negatively the lives of everybody involve in the industry. You will have no videos to watch. Some "smart" fans told me: "There is enough porn on the internet, so I don't care if there is no new porn". Unfortunately, there are idiots like this, and they are reproducing like rabbits.  These are the same stupid pieces of ****** that complain when a model does not do hardcore, anal, etc. These scumbags complain about content that they do not even pay for. They fail to realize that with less money in the market, performers would not be interested i doing more scenes.
Tubes that stream full movies and torrents affect everybody involved in the product you like to watch. Fan of the blog or any other adult site, understand this: If you keep on with this illegal acts there will be no pornstars, no sites and, obviously, no BoobsRealm.com.
You want to know why Jana Defi and Merilyn Sakova retired? Yeah, you are right. Their content was downloaded for free. Merilyn invested her money on her site and you ripped her off. She lost her money and she lost faith on her job. It was thanks to you! Why Milena is retiring? Why Nadine left? Why did Siri take a hiatus? You always kick and scream when a model does not show up again. If you want to point fingers, just look at the mirror. Pay4YourPorn and you will have more girls and more scenes. Otherwise, say good bye to the girls, say good bye to the hot girls on webcam.
So to those fans who ask me why I do not post free videos. It is because I want you to Pay4YourPorn. If people do not pay, BoobsRealm.com will not have sites to promote, thus Boobsrealm.com will die.
You wanna know what's the story behind tube sites? Stay tuned.