Sha Rizel is the perfect 10. I have met several models. Katerina was my favorite as a fan, other girls are gorgeous. Sha Rizel was the superstar.
There are things that always stuck in our minds. There are 2 things I will never forget. I was waiting outside the Airbnb for Sha and Demmy to arrive.  I already had met Demmy the before. I was not sure which car was gonna drop them. Suddenly an Uber arrives and I see Demmy, and next to her I see Sha Rizel looking like a million bucks. All girls I worked are beautiful, but Sha Rizel made my jaw drop. I knew that if I would have never ever seen Sha Rizel in my life – nude or with clothes on- I would knew with just seeing her that she was a Superstar. Sha Rizel had the IT factor.
Sha was very friendly. Also very professional. Sha got to get ready, then arrives. I tell her the first video will be a stip tease on the bed, which has not been released yet. She asks me if we do photos first and the videos. We start with photos, as I am still in cloud 9 and I need time to process. We start and she gets topless…. BOOM… those tits and that body. This is the second moment I will never forget. People that know me know that I always have something in my mind. In that moment I went blank and just started starring forgetting about the whole planet for 2 very long seconds all in slow motion in my brain. Then I got back to my senses and took the photos. Then we shoot the video. Then we do the interview.
The following day we did a shoot with Sha and Demmy. Both together. That is the day the Iconic First and Only Boob Grab happened. join Boobsrealm onlyfans at 65% OFF. The boob grabs are on PPV at $15.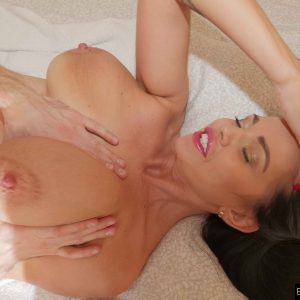 If you have followed the Onlyfans from the start you know there ia video #6 which was supposed to be the POV as the camera was on the head, but it moved and Sha was not looking. It is an interesting sort of BTS video if you wanna feel you are there, but not seeing it clearly, but wanting more.
The First Boob Grab, called Manhandling of Sha Rizel is available on PPV.
I still have a couple of videos to relase from Sha and a video of Sha and Demmy Together.
Sha Rizel is still shooting for her Onlyfans and always offering quality content for her fans. Look at this from her own page.
https://t.co/VrftJBsDxS 💜🎁🤗❤️❤️ -65% sale on new content 🤩🤩🤩🤩🤩🤗beautiful pic.twitter.com/nXzAE0s3jO

— Sha Rizel (@sharizel_me) September 10, 2022