Veronica Zemanova starred in a movie that featured her as a busty debutante who got a titfuck. Before she gets fucked, she leaves the scene and that's a wrap. What are the stories behind the infamous scene?
The story goes as follows. Veronica Zemanova was discovered in Brno by one of those agents who just wants money and cares two fucks about the business. It is very common to have male agents who have one pornstar/model as a girlfriend or maybe more. The goal, just fuck for free and get money when someone else fucks them. Nowadays, some guys online that found hot cam girls think they can be their agents and start blocking producers or photographers.  They get jealous. That story has happened time after time all over again. In may cases, the story ends with the girl not making good money and always leaving the guy for someone else. It seems this is what happened with Veronica Zemanova.
The guy who discovered her took her to Pierre Woodman, who was well-known for doing castings for debutantes. He was also famous for fucking the shit out of them and sometimes getting a lot of extras due to his "manipulative" almost magical ways of treating mentally unstable girls. The agent was afraid Woodman would not only bust Veronica's asshole, but also that she would fall in love with Woodman. The scene never happened.
Fast forward a few months. Veronica, a virtual unknown, was set to make her first scene. On that scene she gets her tits and pussy grabbed by a man. When the guy is getting it hard and moves forward to insert his cock in her pussy she pushes him away and leaves the room.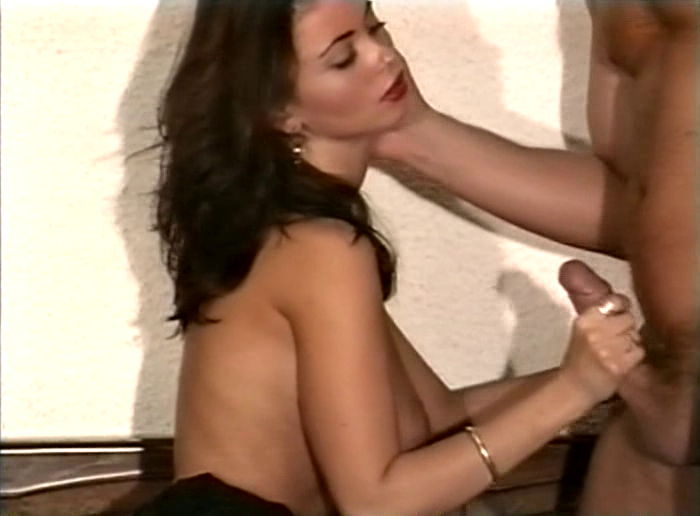 The Official Story
Woodman, who found out about the scene soon after its release,  was pissed off that he did not get to inaugurate Veronica's orifices on camera. He called the agent to inquire about said scene. The agent told him that Veronica quit the scene as she got nervous.
If you go to minute 23 and onwards you can see that there is chat between male actor and veronica. She seems to reject with the head what the guy tells her. She then looks at the camera as if the director is giving her instructions. She looks surprise and a bit uncomfortable.
The music is there to distract us from the conversation. This one I can tell you for a fact. I have to apply that technique to some videos on my onlyfans so people do not listen to some conversation or noises.
The close to hardcore photoshoot
Benefit of the doubt?
There are a couple of things that could lead to think that the scene was never supposed to be hardcore.
Taking 26 minutes just to start fucking for another 20 would make it a very long scene for a newbie. I would understand it if it would have been Veronica Zemanova, the big star. But a buildup of 26 minutes for a newbie? It would not make sense either to have a buildup of 26 for a 5-minute hardcore.
The concept of having the girl runway seems to be an interesting concept for a solo girl. It is like Valory Irene's titfuck or Karina Hart's. It opens room for feedback from fans.  I really like this idea. In my short producing experience, I had Demmy Blaze and Lana Kendrick tied to a chair. The directive before starting to record was to show them uncomfortable, worried and giving the idea to the fans that they were watching something they were not supposed to be watching. I really like this video. I would love to recreate it with a current non-porn model… but it takes two to tango.
Still let's enjoy this piece for what it is. A historic scene. Woodman said he watched a version where there was a BJ. It sounds really weird that there is no record anywhere of this scene including a BJ. While there are cuts during the shoot, there seem to be no cut when she is grabbing the poor guys' cock.