I debuted today BigBoobsGlamour.com which will focus solely on Busty models who are not related to porn. There might be some exceptions considering that some girls are retired from hardcore, but expect to see more of Beth Lily, Stacey Poole, Tessa Fowler, Jamie Love, Elizabeth Marx, Sophie Coady and many more. Expect some internet amateurs too.
Here a photo of Sophie Coady, who will be featured in the future on BBG.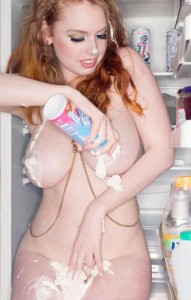 The reason behind the new site is that some of this Zoo magazine models do not want to be interviewed on a site that features porn. This new site will be used to present to you -the fans of boobsrealm.com- the opportunity to see other girls and read interviews you would not be able to see if there would be only BoobsRealm.com. It will also help to bring more attention to this blog. So keep checkin BoobsRealm.com and visit regularly BigBoobsGalmour.com
Viola Baileys is BooBerrific! I hope she does great, but let's enjoy her latest work with big boobs expert Cel. He is the Titty Master and knows what is a great pair of juggs. Cel shot Viola some weeks ago and made sure to immortalize her work in some sets that will become treasures for the big boobs pervs out there. Viola puts her amazing breasts to play. She did not fuck Cel -unfortunately for us and him- but he got amazing photos and videos of her. XX-cel.com knows!!! And if you are not 100% sure check her scenes of Katerina Hartlova pregnant, Sheila Grant and Amanda Torres.