Agnetis Miracle is probably the bustiest girl in the world with the prettiest face. She has a cute look and even before seen her tits, you already fell in love with her. The polish blonde debuted for busty.pl under the name of Duana, but soon after she quit and launched her own site AgnetisMiracle.com. Since then she has become a fan favorite. She was teasing her huge boobs nude for months until last year, when she finally released the babies.
Click on free online fuck sites to be lucky and get your own busty girl
This topic is aboout the beach and how many girls go topless while taking a sunbath. To be honest I would never be able to be in a nude beach, but if I were there and found Agnetis boobs naked I would have the erection of my life. Probably I would grope her and run away..lol.. just kidding.. or maybe not.
Please enjoy these pictures of the busty natural polish on the beach
In addition, I have selected some busty girls who show off their big knockers in public while profiting from the summer. I think Ibiza is the beach where most of the hottest girls -including pornstars and models- go on vacation and go topless or nude . I have to book my plane.
Unfamous Daniella from ugotitflauntit. She has been featured topless, but showing her back to the camera. She is quite an internet sensation.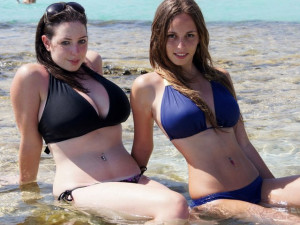 This hot girl in black bikini seems to be auditioning for Girls Gone Wild. Do you think she would get the job?
I don't know if she is a pro model, but she looks like she were. This girl is absolutely breathtaking. Holly boobs!

I wish I would have found more pictures of this beauty. If somebody has topless pictures please feel free to share with the big boobs brotherhood.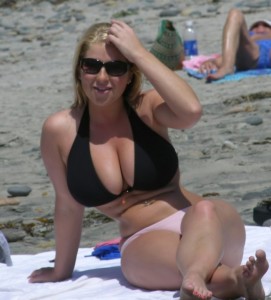 Another place I need to go to is New Orleans. I have seen many pictures of girls showing their tits in exchange of cheap Mardi Grass collars. February or March I think, depending on the year. Anyone wants to join me in my amateur titty quest?
Reminds me a bit of Viola Bailey, but the latter has bigger boobs. I hope this one starts doing hardcore, too.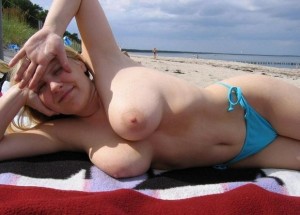 And a couple more.