More #MissBoobsRealm2016 nominees today. Busty polish Agnetis Miracle, two-time winner Antonella Kahllo and Canadian pornstar August Ames. Three heavyweight- pair of boobs-. Note: To discover all girls in the contest click on Miss Boobs Realm 2016 here or on the top menu. Who is your favorite girl so far?
Let's start with Polish sensation Agnetis Miracle. The former Duanna seems to be in the twilight of her career. Word is that her contract is up and she is either looking to retire or pose for another site. Agnetis is a busty girl with amazing boobs. Despite only going topless, her work has been flawless. Word also is that she is married so that plays a factor in not going full-nude, let alone hardcore.
Her site is nice and it is updated regularly. I think she could have been more popular if she would have collaborated with other sites in order to get more exposure to casual fans.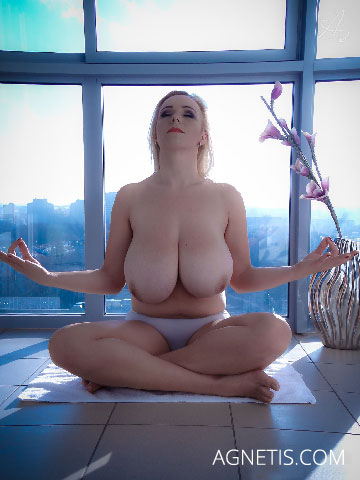 Two-time winner Antonella Kahllo is here to win the contest for third time. Antonella and her loyal fan base are always excited about the contest. Antonella has been updating her site regularly and has found new ways to share her life and her boobs with the fans. She is also a very active model on twitter @AntonellaKahllo.
UPDATE: Antonella has withdrew from the contest. Come back for a post that will give an update on her decision and a poll to choose her replacement.
August Ames is a top Canadian pornstar who relocated to the USA in order to become a household name in porn. Many fans e-mailed me about her scenes. I have to agree she looks nice. Despite I don't usually like fake tits, I think August's ones are really nice. If you join any of the sites she has been featured on you will never be let down by any of her scenes.
I like August Ames more natural beauty. I think she is even prettier without make-up. What do you think?
I'd love to give her this make-up =)