Antonella Kahllo is a fan favorite. There is a reason why she won Miss Boobs Realm 2013 and 2014. She has a huge cult following and hardcore fanbase. It is not easy to find big boobs latinas, so her big heavy natural boobs make Antonella Kahllo a one in a million girl.
I have not posted much about Antonella, but this is changing now. I will do at least weekly updates on her official site. Actually she is updating it at least twice a week with quality photos and webcam videos. Yes! You can have a very professional produced gallery and also a more natural and personal webcam video.
In this opportunity I will show you samples of her latest gallery. Antonella Kahllo wearing a red polka dot dress is not easy to beat. Just look how those mega tits want out of the dress! It is unreal! And the best part is that they get what they want – and want we ant- and those mega juggs are set free!
So what are you waiting for. Check out good quality and hot Antonella Kahllo polka dot gallery on her official website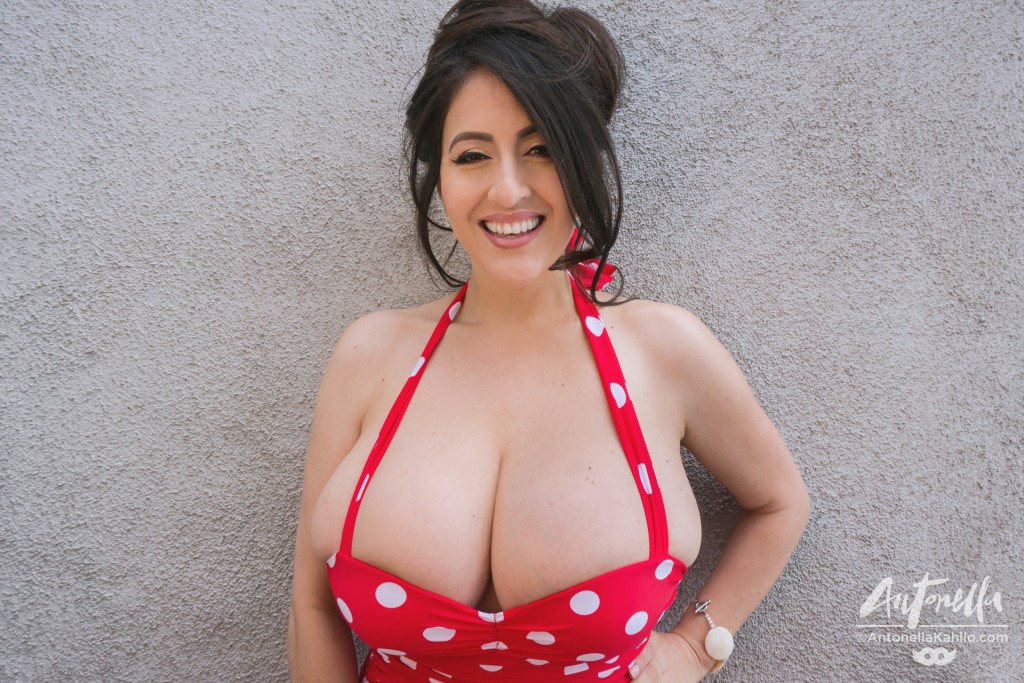 How many hands does Antonella Kahllo needs to cover her big natural boobs?
Also I took two screenshots of her latest webcam video. In some models cases, the boobs look huge depending on the camera angle. In Antonella Kahllo's case they look huge even if you close your eyes!!! Antonella starts the session with clothes on, but starts teasing her big natural babies. Look at the first screenshot. That bra is about to be destroyed buy Antonella Kahllo's monster tits.
Now what you were looking for! The tits are set free! Don't get satisfied with my screenshots. I really recommend you to join her site. She and her big girls are working hard to make you go hard. I am sure you just saw wood my friend!