Thank you for al the support. I would have not made it without you. I have added another day for the 30% discount on the Boobsrealm Onlyfans. On this second part I wanna share more info on this process and the list of videos you will find inside the Boobsrealm OF. If you have not checked it out, go to Part 1.
I had a lot of fun -which came with some stress which is par of any project- creating content with the best busty models in the world. The BoobsRealm onlyfans is a project made by a fan for fans. I got some negative comments when I announced the project was going to become a reality. However, it came from people who had no idea of business or were jealous. I think for sure that it could hav been better, but in 14 months I can say that despite COVID hitting some subscription accounts in the past few months I turned it a profit. I had the opportunity to meet some of the most famous busty models in the world and I was able to travel to different places I would have no thought I would have been able to visit in 2019. Moral of the story. If you have a business plan and are very objective about it, do not pay attention to negative people. Review potential risks and mitigate them. Worst case scenario, I lived some great experiences and did not lose money.
Fun fact: Cara was not wearing panties, so she was worried I was going to catch it on camera. Sadly she told me after so I did not see anything =( LOL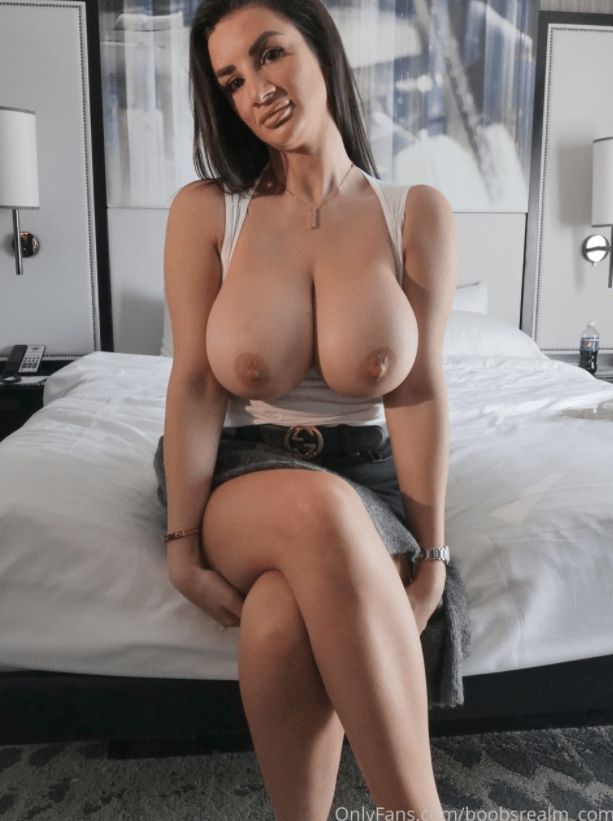 I have been told that a handful or promoters on twitter want to start producing content. I wish them luck, but I also share my advice "it is not flowers and rainbows". Another advice. "If you think you will do this and get to fuck the girls, you are wasting your time". Yes, I had boners while shooting content, I must admit, but there is nothing like being respectful and professional. Models talk to one another and get references. I am not a pizza or chocolate that everyone loves me. There is people you have more chemistry with than with others, but being nice and respectful opens doors to grow as a business.  Last advice " Treat it like a business and do not burn cash in models you want to but are way too expensive". Always have a ROI ratio per video. I have been fortunate that the mandhandling videos, which were more expensive than some whole shoots combined made profit.
Last but not least, I wanna leave you with the list of videos available on the BoobsRealm Onlyfans. Videos come out weekly. I am starting. I was not a professional videographer or photographer, but I had to do it. "Time goes by and never returns, opportunities do no come back". I bring you the most natural content of the best busty models. You can feel the connection, the real person. No fish lenses, no extreme make-up, no over the top shoots. I  like other sites, but I wanna give you the "most real look".
1. Interview with Katerina Hartlova
2. Interview with Nina NIghtbloom
3. Nina's pussy play
4. Interview with Sha Rizel
5. Massaging Sha Rizel ( $9.99 to unlock)
6. Katerina Phone recording
7. POV massaging Sha Rizel (back-up phone)
8. Interview with Lana Kendrick
9. Milking Katerina Hartlova
EXTRA: Lana Kendrick Tit Licking and Grabbing part 1( $9.99 to unlock)
EXTRA: Lana Kendrick Ti Licking and Grabbing part 2( $9.99 to unlock)
10. Demmy Blaze Interview
11. Interview with Maria Body
12. Demmy and Sha Titty Battle
13. Interview with Cara Ruby
EXTRA: Demmy Blaze Mandhandling ( $9.99 to unlock)
14. Interview with Jemma Valentine
15. Nina Nightblooms' Card Game with Happy Ending
16. Lana Blanc's Taco Tuesday
17. Sha Rizel Strips to 90's Rock songs
18. Katerina Hartlova showering
19.Katerina Strips in Bed (part 1)
20. Katerina Dildo in Bed (part 2)
21. Sha Rizel oils her big naturals
22. Maria Body sucking a banana
23. Interview with Hannah Orio
24. Bath with Sha Rizel
25. Interview with Rachel Aldana
26. In bed with Cara Ruby
27. Lana Blanc Busty Burger
28. First Video Ever Katya P.
29. Groping Lana Kendrick ( $9.99 to unlock)
30. Maria Body Bathroom Tease
31. Nina NIghtbloom's JOI
32. Demmy Blaze stripping off game
33. Stripping Off Cara Ruby
34. Introducing Nina NIghtbloom
35. Lana Blanc's toy Collection + BTS
36. Katya P. gets horny
37. Kneading Hanna Orio's tits
38. Lana Blanc's Masturbates
39. Maria Body loses strip tease game
40. Interview with Arianne Saint-Amour
41. Shower of Two Demmy and Sha
42. Nina Likes Ice Cream
43. Playful Katerina
Happy New Year!!!