Thanks for checking out part 1. Now I continue the journey of BoobsRealm to 2021.
Miss Boobs Realm Controversy
The Miss BoobsRealm contest was created as a way to make fans share thoughts and debate. In 2014 A forum was created. however, it represented a lot of work and security expenses to add and it was cut two months later. That year Lucie Wilde debuted. She was the girl of the year. I got investors that donated $500 to the winner. A site was created just for the contest. Fans could vote every day. I wanted engagement. However, I never expected fans to create fake e-mails and bully others because they wanted their favorite model to win. That year Antonella Kahllo won by 1 vote. While Antonella is great, I do think that should a Committee had existed that year, Lucie Wilde would have won. Maybe she would have realized her potential and would have never retired. This fan abuse made me start the Boobs Committee in 2016.
Historic photo by Lucie Wilde thanks to DDFbusty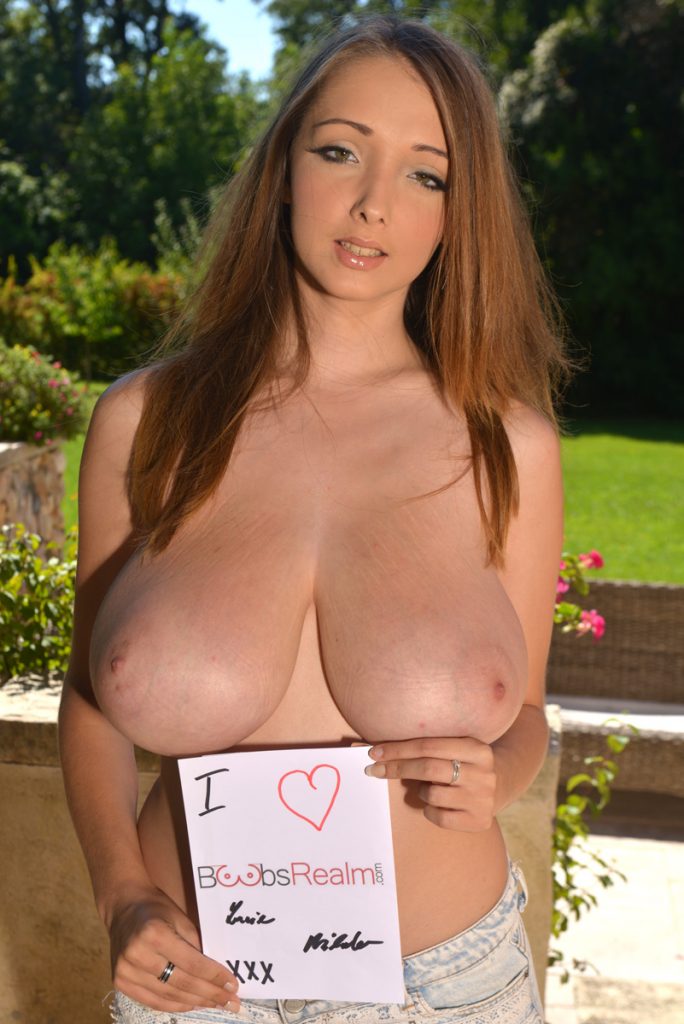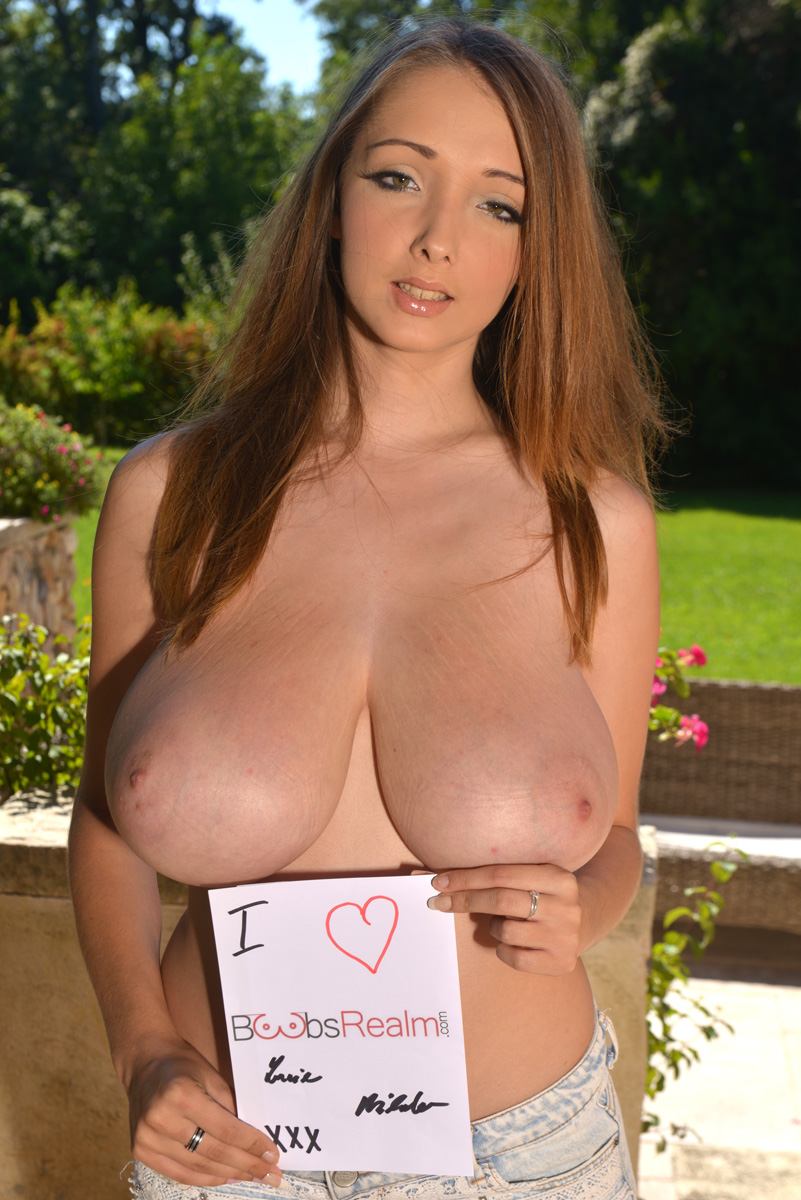 Hired by a Porn Company
Once I came to Canada I started to work in a very famous company. However, I did not like it that much. As I knew people in the office in some porn companies I applied to one famous marketing company in the adult world. My porn interview was basically talking about how I was able to get almost a quarter of a million visitors a month with no cost. I got hired.  I worked there for  1 year. My goal was to replicate BoobsRealm in a larger scale. However, they hired me because of BoobsRealm, but gave me a complete different task. I kicked and screamed to help them create the best porn blog in the world. If i got BoobsRealm where it was with no real budget I would be able to get tons of thousands with a budget. I made them money with some review sites. Hey even more money than I made on BoobsRealm. however, the anser by our VP was… "Blogs will die". "Nobody cares about reading". "Porn fans are wankers".  I wanted to make partnerships with girls in the big boobs niche for promotion. I wanted to get advertisement deals with Viola, Katerina, Lucie Wilde and even Beth Lily, Emily Born and others. Yes, I could. I was in good terms with all of them. Beth Lily asked me for 500 pounds to shoot for BoobsRealm.  I showed them the BoobsRealm tank top and told them what could be achieved with branding of their main site. However, my employer preferred to pay 2k to an American pornstar for 1 tweet and writing on her arm with a marker. the name of the now defunct tube site they had. Way to go. My contract had some limitations about what to promote on Boobsrealm.
At one point you get fed up of BS. A saw how many porn sites make money. Stealing content, fake dating sites, bots and scrapping content. etc. It was time for me to ride into the sunset and make Boobsrealm Great Again while I search for a non-porn related full-time job.
The Hackers, DMCA's, The Girl and a very unfortunate incident
Year 2017 was the worst year of the blog. My daily visitors went from 15k a day to mere 2k after a hacker attacked the site. I hired two developers and one scammed me. Several cam girls DMCA me and got google to punish the website. On the side I met a beautiful busty blonde with natural Double D's.  I also was victim of a personal unfortunate incident. I was away from the blog for months. Some people thought it was the end. And honestly, I thought it was. The second developer was not able to fix the problem. The girl was a nice girl, but sometimes it is better to enjoy the moment while it last and not make any plans for the future. The unfortunate incident took probably years of my life. In parallel LeahBabyGirl was a new cam girl who gave me some hope. I was going to sign her to a contract and represent her as I saw a lot of potential in her. However, her personal issues also made her cancel and all was gone. I even had the logo and was about to get a site for her. But I had to rise up from the ashes as Felix the Cat – that is an inside joke that only one person gets-. The good thing is that users returned by 2018 and while the site is not full at 15k visitors per day it is still decent.
Sha Rizel on the BoobsRealm Onlyfans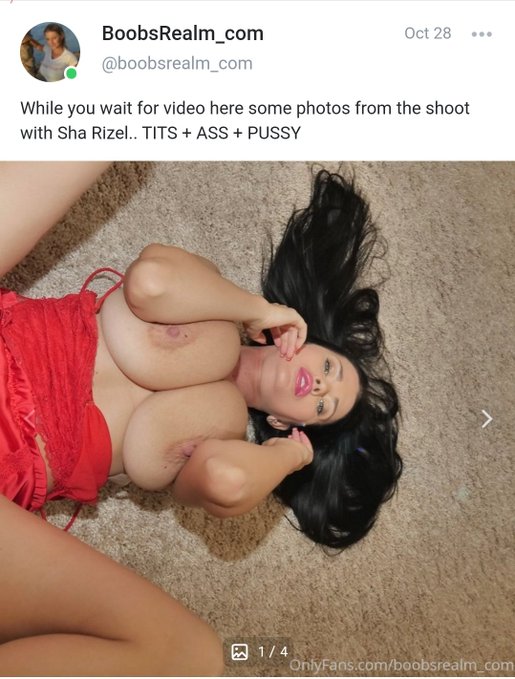 BoobsRealm Onlyfans
I made an April's Fool's day joke back in 2017 about starting my own production. The photos I published were of Ilana, who has some photos in the current BoobsRealm Onlyfans. I did not think of it seriously. It was an amateur shoot. Fast forward 2019. I was going to Prague and I thought it would be a great opportunity to meet with Katerina Hartlova who I have been in touch with since 2010. I grabbed a camera and one simple light. I had no idea what was required to shoot. I really wanted to meet her, shoot some videos and make a few dollars from it. I learned the hard way how difficult was to prepare for a shoot. In the end some content was shot with a cell phone. Katerina was very warm and fun to talk to. I really enjoyed my experience. Back in Canada I realized I wanted to try it again. I had the contact of several models. Katerina shot with me because she knew I was not a creep or a crazy fan. Other models knew who I was. I had several thousands of dollars of profit from the blog. Why not?  And that is how I got to shoot Sha Rizel, Demmy Blaze, Maria Body, Lana Blanc, Lana Kendrick, Cara Ruby and Hanna Orio besides my own amateur Katya P.
BoobsRealm Today
So I want to thank the fans who supported the blog and the models who have either worked with BoobsRealm or have wore the famous tank top. Believe it or not it is great honor to be able to put smile on people's faces. Yes, some people complain. Some people hate, but it is always important to focus on the positive and learn from the mistakes.
After all I am fan like all of you who visited Boobsternewscenter and decided to start a blog. I was told most sites die after a few years. BoobsRealm is still here. Then the fan who became a blogger decided to live the dream and travel the world producing content. I was told most producers shut down after 2 years. Let me tell you I have content until December 2021 already filmed, so it will be the 25th month. More shoots are coming despite COVID.  There is a partnership with The Infinite Curves for content and other partnerships are on the horizon. BoobsRealm might not BoobieBlog or BigBoobsAlert both which have millions of visitors per month, but it is a blog made by a fan for fans. I enjoy those blogs. The main difference is that I want you to feel there is a fan like you behind the blog.
BoobsRealm brings you the best busty girls in the world and its onlyfans is going to be a combination of past present and future. I said before launching that I would have the best roster in any big boobs site. You already know who I have… now let's wait for the future.
List of current models: Katerina Hartlova, Sha Rizel, Demmy Blaze, Maria Body, Lana Blanc, Lana Kendrick, Rachel Aldana, Nina Nightbloom, Louise Bordeaux, Katya P, Cara Ruby as well as guest appearances via The Infinite Curves by Jamie Love, Sammy Braddy… coming soon Lana Parker and Brookie Little.
The Future is Here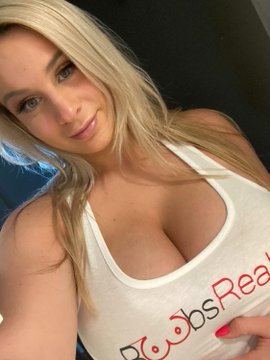 Thank you! And now more fun facts that you did not know:
Kate Upton sent a Cease and Desist letter through her lawyers when I posted The Fappening photos. They stated in their e-mail accompanying the letter that she was mortified by finding her photos on BoobsRealm.com. I replied stating that I took down the photo and I was honored that Kate was checking out BoobsRealm. I invited her for an interview, which was declined.
During an interview -never published with Anri Okita- I asked if I could grab her tits for the interview. She was ok with that but she had to get it approved by her agent. The agent denied the request and my dream was vanished.
Boobsrealm introduced Milly Marks to Zishy. Boobsrealm introduced Pinupfiles to Angela White and Tanya Song; however, the shoots never took place.
The Best converting sites in the history of BoobsRealm are: BustyBuffy, LegalPorno, Kelly Madison, Streamate and Chaturbate
The password protected Tessa Fowler post was available to the public for two days, but it is awaiting deltion or publication depending on what Tessa's reaction is from the whole podcast audio.
BoobsRealm launched a sister site called Big Boobs Glamour in 2015 just to convince Beth Lily to shoot for a site that was not featuring porn. As Beth changed her mind and rejected that idea too, the site got canceled.
Board.freeones.com banned the word Boobsrealm as I was new in 2010 and was "spamming" my own link to help my friend Naughtyboy get more visits to his clips4sale. Freeones is one of the main sources of traffic to most adult sites, which has a big impact in everybody's revenue.
BoobsRealm was to get rebranded as Big Boobs Glamour  in 2019 in order to avoid a ban from board.freeones. However, there were already many models wearing the tank top and fans were already familiar with the name. Even Katerina Hartlova suggested to keep the brand as it was already known by many fans and models.
BoobsRealm negotiated the first manhandling of one famous busty model; however, Covid shut down the door. While the offer is still up and both parties still agree on it, travel restrictions are going to play a big part on it happening. And that is a dream come true for thousands of fans.
Hanna Orio Did this for the BoobsRealm Anniversary
Full video in my fanclubs🤩
Thank you for t-shirt🤩 Follow and subscribe @BoobsRealm pic.twitter.com/lBUUzEjdJH

— Hanna Orio (@hannaorio) February 19, 2021