Round of news and rumors. Canadian tease star Cece Rose makes it to Drake's video. Holly Garner is the newest PUF udpate. Mysti C is returning to Nadine's site and Spaniard sensation Anneris titfucks her tootbrush.
Spaniard Anneris is a master of tease along Mady Gio and Cece Rose; however, she got more daring by titfucking a tootbrush while covering her nipples. Anneris and her giant tits are wonders of the world.
Holly Garner returns for the 24th Anniversary of Pinupfiles. The last traditional model that joined PUF. Enjoy her latest celebratory video for PUF and a 50% OFF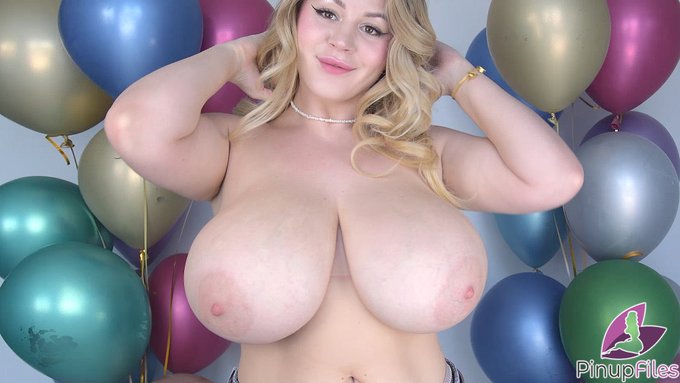 Mystic C was announced as the newest update on Nadine's site. Mysti looks great. Aging like a fine wine. Below a sample posted by on the official site. ON this latest update Mysti is showing her tits while enjoying  pickcnik on  the outside now that the weather allows it.
Last but not least, we posted about Drake hitting on busty girls on instagram. Next we see is how Cece Rose, an onlyfans girl from Quebec gets featured on a video of this very famous guy who could find any model in any agency. Hmmm..
Cece Rose is known for never showing her nipples. However, she did release a video where she receives cumshot to the face. We never get to see the dick tho. Very good video. The girl that never shows her nipples has her face used as a cum dumpster by a dick off the camera frame.  Hmm  maybe the dick was not shown so she did not have to send the ID of the male talent to the onlyfans? Why would a girl "so prude" on her photos gets sperm on her face out of the blue? How much would have costed? I am not saying anything, just pointing out the oxymoron.
Ok back to the glorified bum, below the video, but before  a pic from Cece Rose and a screenshot from the cumshot.
Cece Rose Onlyfans: https://onlyfans.com/cecerosee
You can see her at the 1:33 mark