A holy grail is unveiled! Jenna Doll takes a look to the face and swallows some sperm. A video from over 10 years ago was unearthed last year on Xhamsterpremium. You know how big of a Jenna Doll fan I am and how obssesed I have been with her rare facials. Check out my post dedicated to Jenna Doll Facials.
This video is a rare hidden gem. Jenna starts the video wearing a cheerleader outfit. It is irrelevant as she takes it off quickly and starts sucking the cock of the guy with her. The video lasts over 14 minutes. Before the end she says she wants the cum on her face to drip to her tits. The guy jerks off while Jenna opens her mouth to receive the load. We have never seen Jenna Doll before like this. Very comfortable with the possibility of getting warm cum on her face and in her mouth. She positions her face to take the load in her mouth and on her chin, like a champ. The first shots come over her tits. She moves her face and the guy shoots another drop on her tongue. She does not spit it as in all other scenes where cum reaches her tongue. Oh I forgot to mention that she had said before the pop that she wanted to know how the cum tasted!!! So once the cum hits her tongue he places his cock on her chin and leaves jizz over it. Then he has some drops left. Jenna closes her mouth and takes the sperm down her throat. She opens it again and a smaller drops gets the tip of her tongue. Jenna Doll closes her mouth and the cum disappears. She rubs the cum on her tits. The continues sucking the cock dry. We have never ever seen this before!!!! The cum on her chin stays there until the end. She is happy and smiles to the camera. She does not clean it off as in the Rodney Moore scene. The last second is Jenna Doll smiling with the load on her face!
Get ready for the big facial!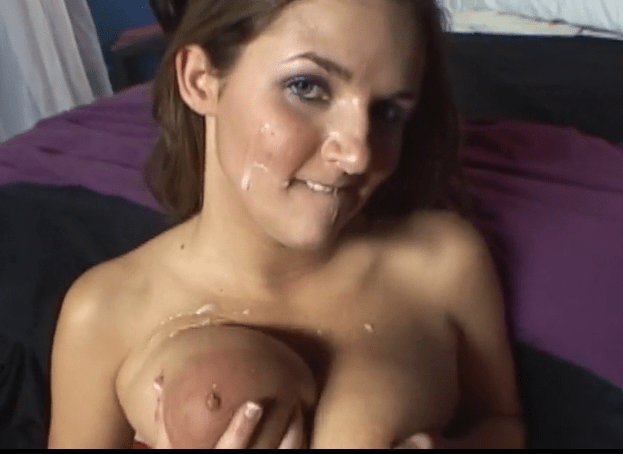 Jenna Doll was active on the porn scene for about 2 years. We have only seen less than 20 scenes. However, this scene from an indy producer is out. There might be more scenes that nobody has seen. Actually there are hundreds of scenes shot -and private videos- that never see the light of the day. However, they exist. I remember that Jenna said she tried one anal but passed out as soon as the cock entered her ass. We do not know if that is documented on video or if it is, but lost on somebody's hardrive. I know for a fact that there are cases when footage is lost. Or Indy producers just keep the content for themselves. Remember that besides shooting as Jenna Doll, she used the names Jenna Simpson and Heather Simpson in scenes we do not know where they are.
I will be hunting for more Jenna Doll video. This facial and small portion of cum swallowing has made my day and has given me hope to find more someday.
Purchase the video. It is $6.99. Cheaper than a sandwich. You will be owning a rare gem. A cum dodger taking a facial with a smile on her face!