Busty MILF Jenny Hotstuff, who already was featured on BoobsRealm got a gift from us. Those tits deserved to be treated with the famous BoobsRealm tank top. Jenny has an amazing set of tits. Here she does a tittydrop for us.
Believe it or not, girls now contact me because they want the BoobsRealm top. I think I have lost count how many girls got one throughout the years. I may have lost some pics but here we can name some that got pics wearing it in previous years: Mia Magic, Codi Vore, Tessa Fowler, Lily Madison, HollyWould AKA Penny London, TheDrohoe, TheGorillaGrip, Samanta Lily, Antonella Kahllo, Roxane Nour, Lilith Jane, Sophia Traxler, Addisson, Megara Steele, Angel Princess, Eva Prevost, Mila Hello_Pussy, Vanessa Lovellm Kasey Madrazo,  Alexxa Fire and many others. I am obviously not counting the girls who have shot for Boobsrealm. Those will be mentioned in a special post next week.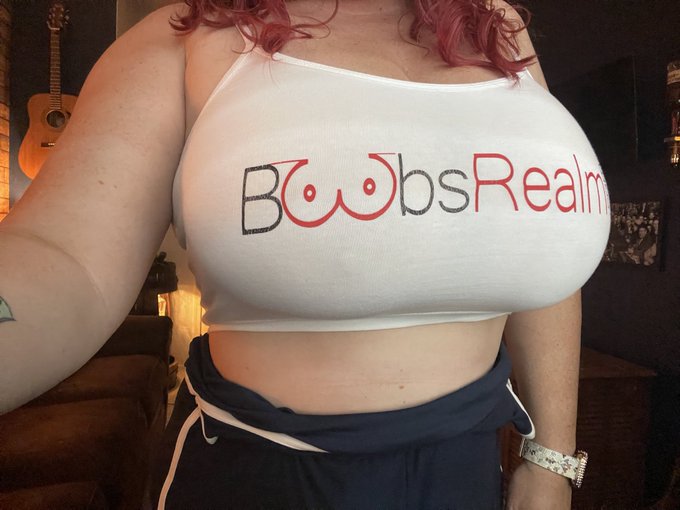 Jenny Hotstuff shared the tittydrop with her fans and got crazy engagement!
Join the Boobsrealm Onlyfans to watch all the girls that wore it during our shoots.
Follow Jenny HotStuff on twitter and join her onlyfans: https://onlyfans.com/azhotstuff
Well this was a fun gift to get thanks @BoobsRealm! pic.twitter.com/niL5djcEMC

— Jenny Hotstuff (@jenny_hotstuff) April 16, 2022