Welcome to the second round. This time only 1 girl will advance to the final: The girls in Group G are: Anri Okita, Beth Lily, Brooklyn Chase, Codi Vore, Luna Amor, Kylie Page, Lana Rhoades, Ronna Raze Samantha Star and Sensual Jane.
Rules:
Voting starts December 12th and ends December 25th.
Overall fan vote will have a weight of 2. Committee members vote will have a weight of 1 each.
Committee members -who already voted in the 1st round- are two producers two producers Cel from XX-Cel and NaughtyBoy, who are experts in Big Boobs, 2 long-time contributors to the blog and myself.
The reason why the Committee exists is to avoid incidents that took place in the last couple of years when some fans used VPN's, fake e-mails and other tricks to favourite certain models.
Top girl in each group advances to the FINAL ROUND. The top 12 most voted girls in the 12 groups who do not qualify directly to the FINAL ROUND will go to a redemption round -1-week-long-. The winner of that round advances to the FINAL.

The overall winner competition receives $350

.
Note: Ca Uk has contributed to the blog for years; however, he has been MIA for a month. He told me his health was not good. I ask you to send him good vibes and wish that he is ok.
Winner of Fan voting: Sensual Jane. Please go to to find out who Qualified to the FINAL and who to the Redemption Round considering fans voting and Committee voting. Find out HERE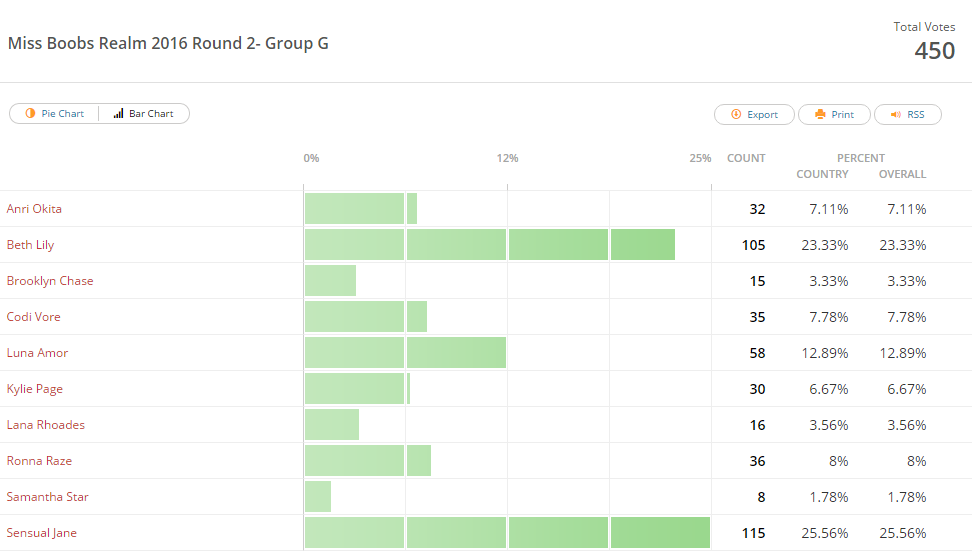 Anri Okita: The busty Japanese and pop singer qualified to this round helped by many fans who appreciate her beauty. She is still active in porn. She has upcoming sets coming out on Milena's site and Nadine's site.

Beth Lily: The perfect blonde from the UK was considered to be the future Lucy Pinder. However, the Birtish busty wondergirl decided to call it quit early this year. However, that has not stopped fans for appreciate her sets and videos.
Brooklyn Chase: Brookly Chase dyed her hair and and reinvented herself. She has been on FTVMILFs and DDF. Brookly is one of the prettiest pornstars over 30 in America.
Codi Vore: The busty blonde cam girl might be one of the rookies that give us hope for next year. After debuting on YesBoobs Codi decided to give Scoreland a try. It seems that the work has been done wonderfully.
Luna Amor: The busty Romanian has been working mostly for Daktari Lorenz and Milena Velba. She also shot some scenes and photos for Scoreland. Luna Amor was called the new "Merilyn Sakova" at one time. Some photos below are courtesy of Milena-Velba.de.
Kylie Page: The busty vixen debuted as Bonnie on FTV; then moved to hardcore under the Kylie Page name. According to Pierre Woodman she is not easy to deal with. However, we always have to take with a grain of salt whatever Woodman says.
Lana Rhoades: The biggest name in the porn industry this year besides Kendra Sunderland has been Lana Rhoades. Everybody that knows beauty understands that Lana Rhoades has been something else. After shooting several scenes for FTV and FTVx -coming next year- Lana Rhoades took the hardcore road. She has been succesful and has gotten to shoot her first feature film, which will be released early next year. There is also a very exclusive interview coming with her where she will they what lead to her temporary departure from porn and what will be her next steps.
Ronna Raze: The busty cam girl is a fan favorite I will always say it. She needs to be more famous.
Samantha Star: What a babe Samantha Star is. She goes by SamanthaStar609I saw her online and I thought she had superstar all over her tits and face. What do you think?
Sensual Jane: She left the industry abruptly months ago, but her legacy will remain with us. Sensual Jane has perfect tits. A cute face. Does anal. Sensual Jane is who new pornstar should look up to to learn how to be a star. Did you know she got fucked by Cel on Heavy On Hotties?