Hail to the Queen! Miss Tessa Fowler has won Miss Boobs Realm 2016 by a large margin. Tessa not only got massive support by fans on the fans poll, but also got more votes in the Committee voting section.
Fans Voting: Tessa Fowler (2 points)
Committee Voting: Tessa Fowler (2 points), Samanta Lily (1 point), Angela White (1 point), Lovely Lilith (1 point)
Miss Boobs Realm 2016: Tessa Fowler (4 points out of 7 possible points)
Tessa wins US$450!! The original award was $350, but Pinupfiles matched the award to $450 as it was in 2013. Thanks to FindBBW.com Pinupfiles and to Committee members NaughtyBoyPOV and XX-Cel for the support and making this contest possible. BoobsRealm.com will contact Tessa in order to make her the award transfer.
Note: Join Pinupfiles and get 50% OFF NOW
Fans voting results only: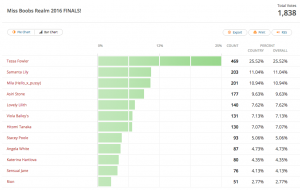 Tessa Fowler has been praised this year by fans and models. Her work has been outstanding. She always managed to deliver great photos and videos. Throughout the year I got several messages from fans who believe that 2016 was Tessa's year. They were right. Tessa participated in the last 4 contest, but this is the fist time she wins.
This illustrates why Tessa Fowler won MBR16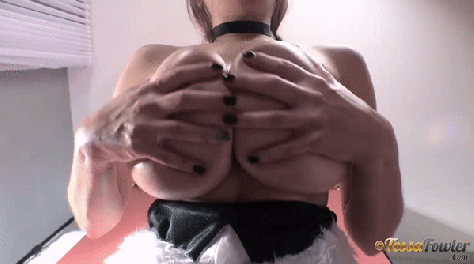 Other fan favorites were Angela White, who had a very special 2016 and Miss Boobs Realm 2015 Samanta Lily, who showed her evolution as a performer and established herself as a future legend. Sensual Jane was another girl who got rave reviews during the year, but her early retirement did not help her cause.
It seems that Viola Baileys did not get the expected support. It might have been because of her decision to retire from porn or maybe she had few scenes, which were not enough to convince her fans.
As you can see in the results, the big surprises were Mila (Hello_x_pussy), Asiri Stone and Lovely Lilith, who got 3rd, 4th and 5th places, respectively.
Tessa Fowler follows the tradition that glamour/nude models win the contest. Tessa made her debut in 2012 at Cosmid as Tessa Rich, taking a hiatus after shooting for this website. Over a year later, she made her professional debut as Tessa Fowler shooting for Pinupfiles and then launching her own site TessaFowler.com.
Natural 32H breast, a bubbly personality, a cute face and a dream body have made Tessa the ultimate fantasy girl. Tessa Fowler is not only known in the big boobs lovers community. Tessa has been in the news this year, which position her in the mind of fans.
I interviewed her in 2014 (Check my interview with Tessa Fowler). She had an impromptu shoot with the Boobsrealm tank top in 2014. She was part of independent movie Shock Value and made a legendary cameo on TV Banshee a few years ago:
She was interviewed this year on The Man Cave Podcast
Congratulations to Tessa Fowler. Thanks for sharing your beauty, and being nice to your fans. BoobsRealm.com wishes you a great 2017. I don't know what Tessa Fowler has in store for us in 2017, but everything Tessa does is simply PHENOMENAL.
Congratulations Miss Boobs Realm 2016 Tessa Fowler