Have you ever wondered about getting a blowjob from a pornstar and then busting your nut in her mouth? Now you can do it thanks to virtual reality on the brand new VR site SwallowBay.com.
The Site
Swallow Bay is your new place for VR porn videos. High-quality content and the best VR technology along with the hottest pornstars giving you a BJ/swallowing experience.  The VR trend keeps growing and Swallowbay.com will keep on bringing busty pornstars craving cock and hungry for cum.
A brand new site that knows its niche and found an identity. When you watch the scenes you will know that all of them belong to SwallowBay.
The layout of the site makes it very easy to navigate. The photos and the pages featured are very eye-catching. The site leaves you wanting more.
The Pornstars
Amongst the pornstars on Swallow Bay you will find many famous busty ones. To name a few: Alyx Star, who I would die to shoot and drop my load inside her mouth, Lauren Phillips, for those who like hot redheads, Blake Blossom, who does not shy away from any cock and many more.
There are many other pornstars that while not as busty as the ones mentioned above, they are still very hot and fuckable. Yes we like boobs, but when you have a hot babe ready to get down to business, you cannot complain. Did I say you are going to enjoy it as you were the one getting the cock sucked? Yes I did, but I should say it again!
Some of the big tits pornstars features. The girl on the featured image is busty Olive Glass.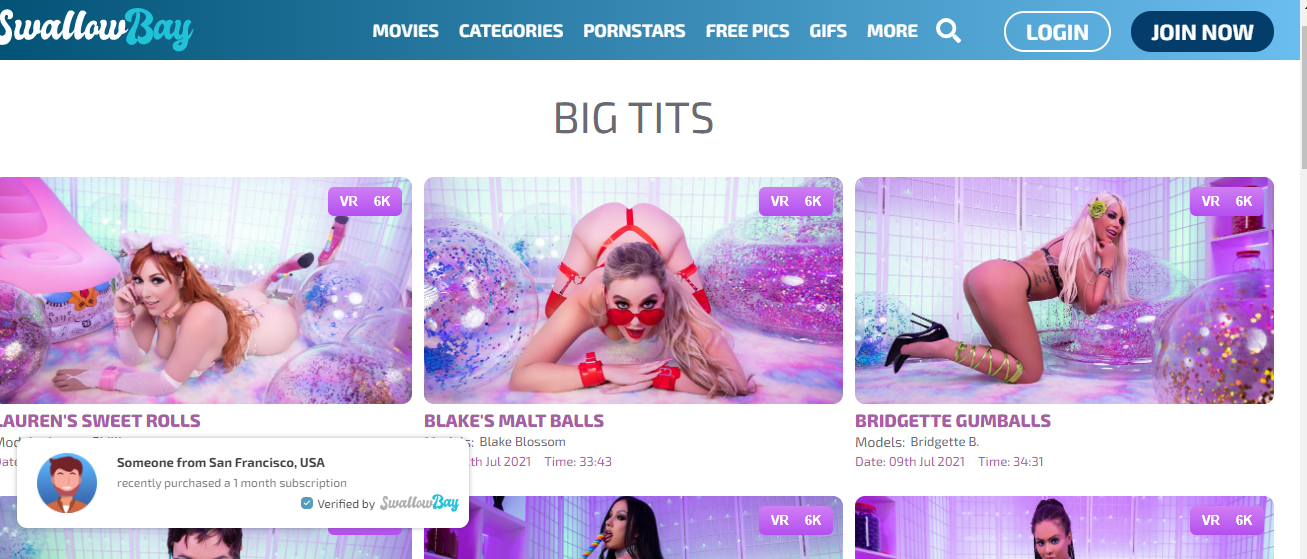 What Swallow Bay offers
Swallow Bay is offering a 25% welcome discount, so it is even better if you join now this brand new site. In times where most performers are going amateur on the content sharing platforms, SwallowBay.com steps up to produce porn professionally shot featuring talent that know how to fuck to the camera.
Going back to the VR experience, once you are immerse in the scenario you will just relax and let the pornstar do her job. There are dozens of pornstars to choose from. Actually, if you join you can pick them all one by one to have a virtual VR encounter with your great one! The scenarios are not that innovative, but hey, the end game is always getting the dick sucked and feeding them some warm sperm. So no scene disappoints.
Scenes are shot in 6K which enables you to live this VR sex experience with the most vivid details. This is without a doubt a huge plus for the site.
You can never miss Titfucks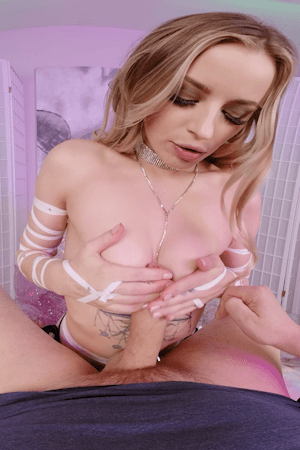 To make it easy for you to pick your first SwallowBay experience, the site has not only listed every pornstar on the site, but it has also classified the scenes by categories. I know that you, as I, would go first for big tits. However, you can also check out others as cum on face, cum on body, big ass, blonde, etc. There is also a category for Iphone, which may have been made to simulate a more homemade experience.
As previously mentioned, Swallow Bay will add more scenes weekly, so you do not run out of VR porn supply. My question to you is now: Who would you want them to add? And who would be your fantasy girl to be in a VR BJ video.
How to join?
I wanted to create a specific section on the post as it is noteworthy that the site allows you to join using Paypal and even Bitcoin. These options are amazing for fans who do not want to use their credit cards. Another point to add to the score of this website, which puts them already ahead of hundreds of porn sites out there.
The Conclusion
Too much talk, so let's get to the action. Check out SwallowBay.com and start experiencing high-definition porn videos where you can be the star living vicariously through the big cock shooting its load to the pornstar of your choosing.
Get full advantage of the 25% and start experiencing VR blowjobs with the hottest pornstars of the moment.