While Ewa Sonnet is not retired, during 2003-2008 she was practically the queen of big tits topless models.  While her material might be same ol'  same ol' in 2017, Ewa became an icon several years ago. Today we pay tribute to one of the best of all-time.
Born as Beata Cornelia Dabrowska, this busty brunette from Rybnik, Poland was always a main focus everywhere she was due to her piercing green eyes and her ample chest. She got discovered in 2003 and given the name Ewa Sonnet. Ewa was the first lady in the Busty.pl's Eden. After a few updates where she covered her big chest, Ewa finally set her big tits free for the 2003 Christmas update on the site. The poish site was the top topless website at that time, having girls such as Lorna Morgan, Ines Cudna and others. Ewa became the top model. Probably her innocent looks and her fear to show her pussy made her a great prize for any who would try to find a pussy leak or who was praying for hardcore.
Note: AM I the only one who saw her as a busty Amy Lee from Evanescense?
Classic Ewa Sonnet photo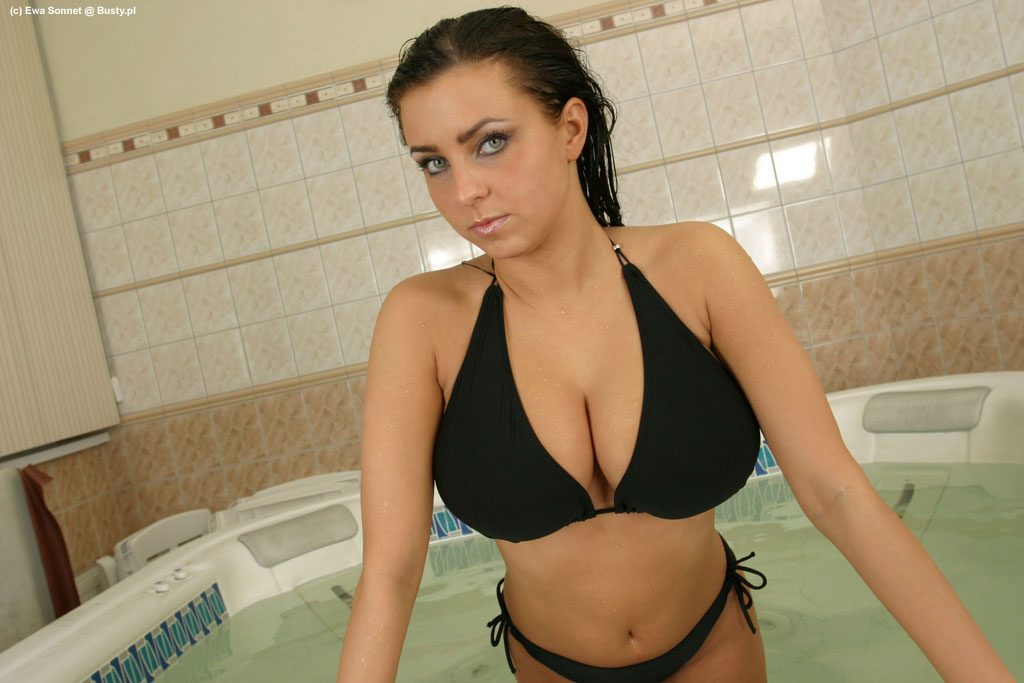 Her manager Phil Reztok was very jealous about her. Girls such as Ines Cudna, Jana Defi and Bea Flora were exploring other sites, but Phil always denied that option for Ewa. She considered other girls as traitors and closed his doors to all of them. He eventually ended up alone with Ewa and Agnetis Miracle. Ewa was just to angelic at that time. The mystery created an aura around her. She and Phil tried to enter the mainstream world. Ewa released her singing debut album in 2005; however, it plunged. Unfortunately Ewa was  not taken seriously by the Polish mainstream media. A failed attempt to get back to mainstream at "Stars Dancing on Ice" tv show. Years later Ewa Sonnet had a kid and stayed away from photoshoots. Nowadays Ewa and Phil run 3wasonnet.com.
While Ewa Sonnet never showed her pussy, some photos and video gave a glimpse of it.
It has been rumored that Ewa Sonnet is ready to take a next step and retire in the coming months to continue with life. It has been 14 years and it might be time to step away.
Ewa and her manager have been against Boobsrealm.com, but despite the bad ill against this blog it is worth thanking her for the memories and her mammaries.