As you may already know that Viola Baileys. I just wanted to refresh your mind that despite Viola's hardcore days seem to be over, she did some nice porn videos for Pierre Woodman. In one of those famous videos Viola fucks her boyfriend and then sucks Pierre to later get a blowbang. For those who have not watched it yet, I think you have to just go to the site and check it out. Viola gets two cocks in her mouth like a champ!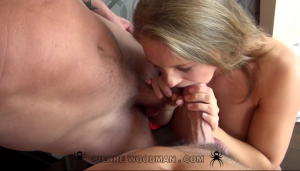 Seems Viola likes to play with more than one cock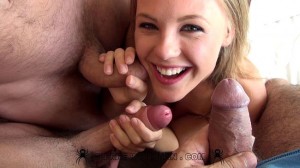 Viola wants the cum in her mouth.. and she takes the loads there
Reminder: You can catch her almost every day and cam with her on Viola Bailey's webcam.
Another girl I wanted to post is Claire Abbott. The busty Canadian and youtube singer has some great tatas.
This one is an oldie, where Claire looks impressive. Her friend has a pretty face too
Last, but not list, I found this while looking on a famous site I want to partner with -no, it is not your porn, but they had a link to this video- Do you know who is this cam girl?