If you are a fan of metal bands you will know who these girls are. If you are not into metal, you may want to watch some youtube videos. If you hate that music, turn the volume off and focus on boobs. Metal and rock in general does not offer many busty girls. In fact, you may see that while the girls on the list have boobs, they may not be as massive as the girls we are used to on this blog. However, these girls still are hotties that deserve more attention.
Who did not fall in love with Amy Lee from Evanescence when she was singing "Bring Me to Live". Amy Lee might have be the one who opened the door to other rock/metal singers, there are other hot girls that are not only talented, but beautiful. Those girls have also TWO attributes that helped them get large fanbases.
This ranking has nothing to do with talent as it would be an travesty to have a list of rock/metal girls and not have Cristina Scabia from Lacuna Coil or Lacey Mosley from Flyleaf. And no, Courtney Love is not here. Nope, nope, nope. And Jill Janus would have made it to a second honorable mention. Oh and Sabrina Sabrok is not a real singer. So let's get ready to rock!
Note: Please Visit our Sponsor WankItNow for Busty Girls that will make you jerk off to them.
Honorable Mention. Sharon den Adel – Within Temptation
"Come on just feell it Don't you see it?" While Sharon Den Adel has no huge boobs, the Within Temptation front woman seems to look just fine. Symphonic metal is really good. If somebody tells you that women can't sing well, just play any Within Temptation song.
5. Taylor Momsen – The Pretty Reckless
There might be a reason why The Pretty Reckless is one of the most popular metal bands that went mainstream. The music is ok, but Taylor Momsen beauty and cleavage have played an important role in the band's success. It's no surprise that Taylor embraces that and goes topless on concerts and has other female crew members dancing topless for the wild crowd. Rock and tits. Who would complain?
4. Jess Greenberg – Youtuber
Jess Greenberg has been featured on BoobsRealm.com last year. She is actually a youtube singer with large breast.  A push-up bra and big knockers have helped her make a living out of her music covers while pressing the guitar to her chest, giving horny guys a boner. She is also a Finance graduate student. You can follow her on twitter @JessGreenberg9 Am I the only one who sees in her some Megan Fox?
Busty Jess Greenberg covers Highway to Hell- Would that be your Highway to fapping?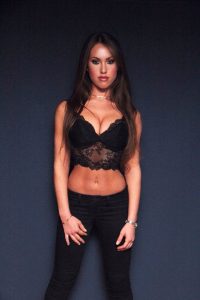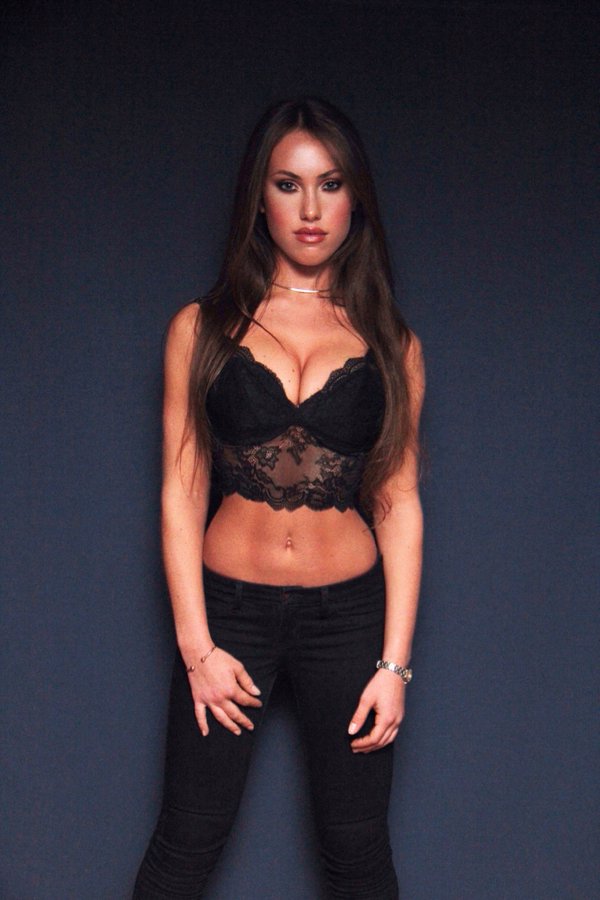 3. Simone Simons – Epica
If Simone Simons would have huge natural boobs, she would be the perfect girl. She already is one of those girls I like the post. It does not matter that she is not that busty, but she is the ultimate redhead. Simone Simons has it all: Talent, beauty and charisma. Simone Simons is an angel and the origin of her beauty is more mysterious than the Quantic Enigma itself.
2. Francine Boucher – Echoes of Eternity
The blonde singer is good. The band is not that famous compared to the other bands listed on this post, but she still does a decent job. Francine Boucher is also a pretty girl and has some bigger boobs than the rest of girls on this post. However, I could tell she is the Britney Spears of metal. There is something overproduced in her. That's not bad, but I guess hardcore metal fans would not like that. Still Francine Boucher is #2 on this ranking.
1. Maria Brink – In This Moment
In This Moment is a pretty well-known band. I discovered this band in 2007 when they just released This Beautiful Tragedy. Maria Brink has been recognized several times as one of the Hottest Girls in Metal. She has also collaborated with Papa Roach – formerly a cool band-  in the single titled "Gravity". Speaking of Gravity, I hope those big boobs stay in shape for the years to come.
Who is your favorite metal girl? Did I miss a busty rock/metal girl? Below This Beautiful Tragedy from In This Moment