People loved the previous two instalments. Part 1 and Part 2 of the Tales from the Boobs Territories, which coves some stories before Onlyfans was a thing and the boobs landscape was covered by producers and Professional Busty Models and Pornstars. This is a play on Tales from The Territories which pertains to pro-wrestling. Later this year I will post a couple of Dark Side of the Boobs, which is a play on the dark stories from pro-wrestling, but applied to Boobs.
Scammers Alert
While a lot of fault can be put on some producers and independent porn producers and agents for running off some girls, it is also worth mentioning that not all models were/ are innocent angels. Below a top 5 legit stories from famous and not so famous girls. For legal reasons I cannot mention the real names. ALL these stories were told by people directly involved in the situations.
One Canadian amateur girl received a camera from a US-based company to shoot some videos for them. The girl kept the camera and never got back to the producer. This girl is an obscure curvy girl that shot content in the early 2010's for a huge boobs website. We never heard of her again. I do not even remember her name.
Another BBW famous girl used to forward any e-mail or message to her manager/husband/pimp who DEMANDED a deposit to be made beforehand any shoot. This moron even had the audacity to Demand a deposit for an e-mail interview for BoobsRealm, when really almost no one that did not see her on Score cared a rat ass about this girl. This lady and her "manager" scammed amateur producers based in the US, as the lady never replied back after receiving the deposit. When amateur producers messaged the 'manager" to get the money back, the moron replied by stating that he had the real name of the producer and address and he had contacts that could harm him should he went public on the scam. Not that anyone else that mattered would have hired this overrated scammer, but sadly she had her fans. Note: those fans used to tweet or post on forums how beautiful of a person she was… Morons!
One of the most popular busty camgirls of the last 10 years used a guy to live for free at her place. No sex exchange, just she being her girlfriend and using him as sugar daddy. When the money supply ended she decided she did no love him anymore and moved to live with her real boyfriend.
One girl that could have been the new face of European Boobs burned bridges with 99% of the producers -including Boobsrealm- as she committed to shoots, made them lose money, used a guy good to pay for her rent and food while she started making money and finally got involved with a man that  "surprisingly" took her money and ruined her career for telling her to ask for more money than what Angela White charged for a gangbang for topless photos. in 2022/2023 the girl -or her new guy- sent feelers to most of the boobs producers, rightfully being ignored by all. Or almost all.
One of the top 20 busty girls of the decade is "persona non-grate" in 99% of the sites is known for changing the rules of the shoot after her arrival and demanding more money than what was previously agreed for the same topless shoot she agreed, even if there is proof in writing.
Hidden Footage
I have always told you that there is a lot of footage that will never make it to the public. As I stated it from my own experience, I  have an interview -and more- with a retired pornstar. However, I agreed to only release it if I had written consent. Another example of these type of videos is the Hardcore debut of Viola Baileys, which was denied by Viola until released. Another video that was not supposed to make it online but did is the BJ of Rockell Starbux for Cosmid. Apparently the video was recorded for private use, but the Cosmid guy considered that it was covered by the Model Release form. Ms. Starbux got it taken down after she found out.  We can also run through FTVx which is a collection of videos shot from 2008 to presumably now of hardcore videos of girls who did not do hardcore for Ftvgirls. Another sample is Lucy Li's IR video, which we found about thanks to a photo leaked.
This info has to be taken with a grain of salt, as it does not mean that ALL girls have done it ALL in private videos; however, I can tell you from different accounts from different people that some things you-and I -would dream- to watch DO exist, but may never be release.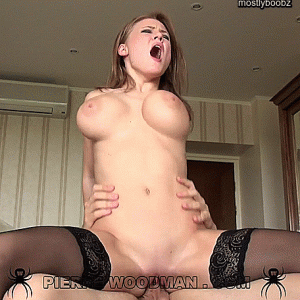 Deleted interview
Back in the day BoobsRealm used to have a lot of written interview with busty girls (such as Angela White, Natasha Nice, Merilyn Sakova, Tanya Song, etc). One of the usual questions was "What di you do when you are not modeling?". The girls would say, watch TV or some would describe their regular job.
Let's keep in mind that Porn is like Wrestling and girls have to keep their Gimmick, so if a girl works as a clerk at a store, she would still say she is just a model to keep the fantasy alive. having said that, this famous interviewee described a little bit of her job and added "nobody can make a living as a busty model. There is not much money in that. You need another job. If a girl tells you they only model they are lying and they are doing something else". While someone with an innocent mind would read it as the model is lying and "keeping the gimmick alive" I did understand it as the girl was doing some other work that was "not paying taxes". It seems that I was not the only person that understood the message, as other models contacted this girl and told her to tell me to delete that part from out interview as it was painting them in a negative light. I did delete that portion. Years later I found out that this girl had a feud with another popular busty girl and that answer was directed at her.
NOTE: Nowadays many girls can make a living off of onlyfans, but a vast majority cannot.  There are approximately 1.5 million Creators on Onlyfans. So remember that only the 2% are making over $5,000/month, while despite some girls making over 1 million a year… The average creator of OnlyFans earns approximately US$151 per month (average of the 1.5M creators, some of them with zero income or zero content).
If you liked this post join the BoobsRealm Onlyfans and watch busty girls videos on the wall!
From my interview with Hitomi which has never been posted