There still is a number of individuals out there who don't fully appreciate the concept of women fighters, whether it is about boxing, mixed martial arts, or any other sport associated with combat for that matter. In this way, all these old-fashioned people might believe that fighting should be a sport for men only, however, even they often claim to like certain things – in particular a set of certain things these fighting beauties bring with them to the octagon.
Let us make absolutely no bones about it and finally admit that it also raises the profile of female MMA fighting itself and the women fighters in particular if they are hot. You may say that having the necessary skills is just one thing, but being super hot is yet another, and being a hot female fighter with a nice and hot set of tits too – well, that's entirely about the complete package, making the truly ultimate combination.
Unfortunately, there aren't too many girls represented in MMA who can surely boast a bountiful pair of twins, as it's simply not really practical for their profession and the job they do. Yet, that's one of many criteria for having an impressive set of boobs, as you will eventually understand as you proceed through the article. So here are 5 MMA women with the largest boobs, who have both the outstanding skills and a gorgeous set of assets matching their combat abilities. An article by the writer's team of "do girls like shy guys?"
Paige VanZant
Paige VanZant is the true meaning of a combat beauty. As she currently fights in the strawweight UFC division, Paige is definitely not expected to own too large breasts – most people are convinced that ladies in UFC have absolutely nothing but mosquito bites down their pretty faces. However, Paige is an excellent example proving that this is not the case of hers. Along with VanZant's model-like stunning looks, the girl's lean and ripped physique, and her truly charming personality, she also has a magnificent set of boobies which are just perfect for the woman's body type, making their proprietress ideal in every possible way.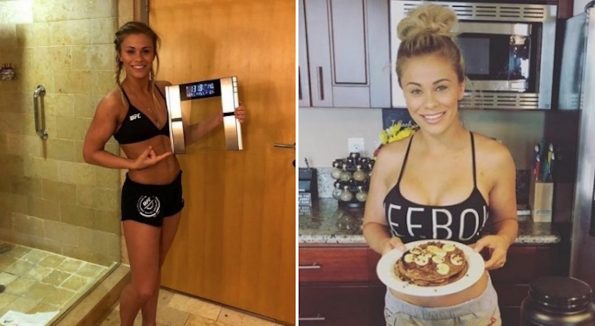 Angelica Chavez
The diminutive build of Angelica Chavez perhaps is not the best female MMA fighter of all time, but, man, make no mistake about it – she is easily one of the most attractive! This blonde bombshell is widely known more for the wonderful figure of hers than for anything she has achieved within the octagon. And no doubt, she's a lovely girl, super-fit, possessing one of the most graceful racks in the entire industry. So, being a petite nature, it is quite uncommon to own a set of tits like hers, yet they still are bountiful and, no doubt, one of the hottest titties in MMA.
Ronda Rousey
As the best female fighter ever living, most famous and most influential of them all, Ronda doesn't need any introduction. When the woman first started her professional career, she wasn't commonly considered to become one of the hottest fighters out there. Mainly because Rousey is not the slimmest female fighter in the game, it pretty much means she's certainly got quite a bit of extra weight up top, and owns a bigger pair of breasts than most. In the past, we've definitely seen literally a lot of them as well, as Ronda has taken part in quite a few sultry shoots – seriously spicy pics in which the girl looks just stunning.
Michelle Waterson
This female just makes every single appearance of hers look glamorous. Back in the day, Waterson used to take a break from the fighting due to her pregnancy, but has continued as soon as she got back in the business in a superb shape. It seems she had absolutely no trouble getting back to her job as literally every UFC fan was keen to watch this beauty where she belongs. Mostly because she has truly tremendous skills, but also no less amazing looks, and a nice set of twins too.
Miesha Tate
Miesha is also a very shrewd personality and definitely knows how to market her appearances properly. You can find tons of pics on the Net of Tate in some extremely sexy attire, showing off her astonishing curves, including her wonderful set of twins, which are just astonishingly good. If you have seen those two grow over the years you will certainly see what they really mean. Anyway, whether Miesha has had breast enhancements or not, the girl's boobs are still breathtaking, as is Miesha.
The photo on the featured image is a well-done fake of Miesha Tate.