Early this week Porn Twitter was flooded with accusations directed towards HeavenPOV mentioning that several women suffered physical abuse during the shoot on and off camera. A anonymous twitter account shared several anonymous stories he received from allegedly women who worked with HeavenPOV one-man-show producer/talent Alex Filho.
The Background
HeavenPOV is -was- an Onlyfans page that featured girls wearing angel wings who are ready to get the roughest fuck -including anal sex- on camera. The lighting and video quality was very high. I have praised the content in terms of production value. I have stated that rough sex was not the type of content I enjoy, but to each its own. HeavenPOV was probably over a year in the industry. It started as a very small indie project. Months later it became a must-watch site for many porn lovers. Big Boobs fans were happy to see girls such as Angel Youngs, LaSirena69, Sabrina Nichole, Lauren Jasmine -doing her only porn- and others. Girls were praising his content and the shoots with the guy. What could go wrong?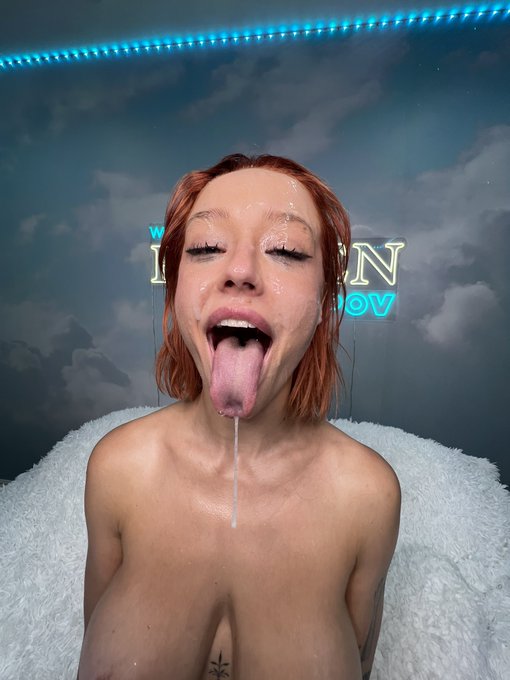 The Testimonies
Many girls have came forward to accuse HeavenPOV of the worse possible behaviour on camera and off camera. Check out the testimonies shared by this account. https://twitter.com/CancelHeavenPOV. Mila Santos, Alex's former girlfriend shared her story. Sabrina Nichole also mentioned that she felt uncomfortable. However, I do recall she talking a few months ago that she was going to return. The situation is complicate from many angles. One or two complains may seem like exaggeration, but when dozens of girls accuse someone, there might be some truth to it. Instead of defending himself or trying to clear up anything, Alex has shut down his social media.
Many women state that they decided to shoot for him as he had a popular account -bought followers- and they needed exposure. Most women say they either did not consent the sex as rough as it was on camera or off camera or were manipulated -sweet talked- to be in a submissive/dominant dynamics (again this BDSM bullshit that should be addressed by a psychologist; men and women). Someone else accused him of faking STD tests, while others said he had guns in his house, which made them feel uncomfortable and feared of any action should they run down sex off camera.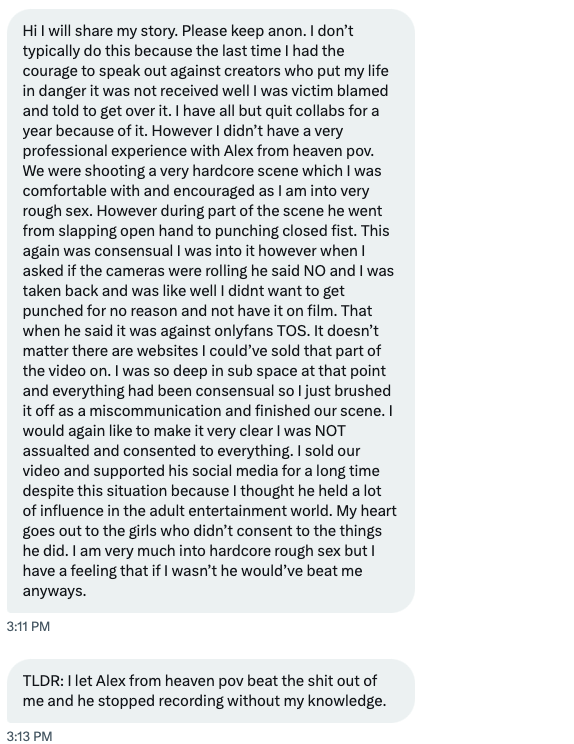 The aftermath
HeavenPOV is finished and more testimonies are shared as I write this. Other porn girls took the opportunity to share their stories and cancel other male talent and creators. Some producers such as DickDrainers came out with their version, while other "indie male creators" remained silent.  The CancelHeavenPOV has started a petition to get onlyfans take down heavenpov and prevent Alex Filho to profit from teh videos anymore.
Some things to note
BoobsRealm supports all the girls who were manipulated or abused by Alex Filho. On the other hand this story leaves us with some highlights that should be considered by producers, girls and fans.
I have always been vocal against "collabs" I even hate to use the word when talking to a girl. I tell them I offer paid work and we could collab for a couple of videos so the girl gets money and videos from my shoot. However, almost nobody shoots topless or nude anymore. Nowadays all "collabs" are sex, and that is when problems start. Girls have sex for free to be able to share videos, while guys get laid and as they are shooting sex think  the girl is also going to fuck yu if you fuck her good.
Onlyfans allowed any average joe to call himself a content creator. HeavenPOV had great production value and that was his edge compared to most "male creators". However, girls doing the "boy/girl" collab should be more careful about who they shoot with
Rumors about HeavenPOV seemed to have been around for a while, but some girls took the bullet in order to be more popular. Again, the Onlyfans collab business model makes girls -and newbies in a bigger scale- vulnerable to guys who will try to do it all to them and for free. not only that,, the guy will make money out of it.
Male pornstars have always been accused of taking advantage of girls on set since the dawn of times. This is an unfortunate true. However, Onlyfans has help the proliferation of "pseudo male talent" who just submitted their ID, fucked a few girls or new girls and then got more exposure to pray on other girls to fuck for free and make omney out of it. If you take a step back and analyze it not as a fan, but as an outsider looking it you will notice that with the exception of a few (MrLuckyPOV, BarryLovesBoobs and a few others who are trying to run a business)  the rest are guys who shoot boy/girl content because now anybody can. Thos eothers get a hotel room and do not have to pay for flights or model fees as real producers do. Those people do not have history or background in the adult business. If the guy has a BBC, easier as many girls -some "former" escorts that i will not name- want BBC content because cucks ask for it. The result, lots of guys fucking for free girls who now do not even get money to swallow sperm and see their revenues diluted as more and more girls join the onlyfans bandwagon waiting to suck as many dicks as possible because some shortsighted told them that is how you make money.
Aside from big name pornstars and celebrities the girls making more money on OF are the ones who do not need to suck everyone's and their fathers dick to make it. Mady Gio, Beth Lily. Jasmin Singing, and more names I will not reveal as the info is not public. Girls should consider if its really worth it before doing "collab" for sex videos.
A list of videos and scripts or going through the videos before the shoot is appropriated' however, enter the human factor. it is possible that chemistry flows and the two individuals feel more comfortable with each other and they do more than originally planned. This is where things get messy.Sometimes being nice is confused with flirting. And if the girl is going to suck your dick later, the male talent would think it will not be an issue if the girl does it once more. Sometimes both parties are ok with it, others we see stuff on social media.
Heaven POV – Angel Youngs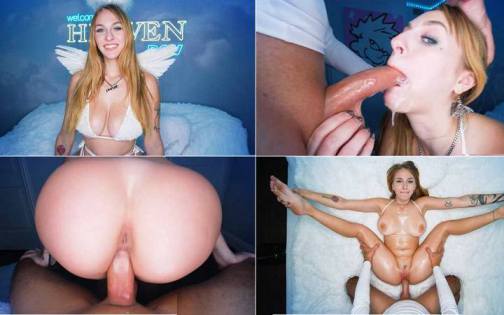 Conclusion
We hope the HeavenPOV story does not repeat; however, while girls can seek references, you also cannot forget some women are also bad apples. A few were denounced in the heavenPOV thread. I also know from personal experience that some girls will provide good references of their friends who just want to get laid. I will not reveal the name, but when this fake photographer contacted a girl I know he went right to ask her how much to fuck.
Boy/girl sex can bring many issues. There can be many misunderstandings during shoots It has happened to absolutely everyone. However, when sex is involved and even worse when rough sex is involved there are many boundaries that can be crossed.
Having said all that it is time to promote BoobsRealm Onlyfans. Some videos feature me, but others the girl's boyfriend. Watch Nina Nightbloom sucking dick and swallowing cum.